Unified state of Russia and Belarus discussed in Kremlin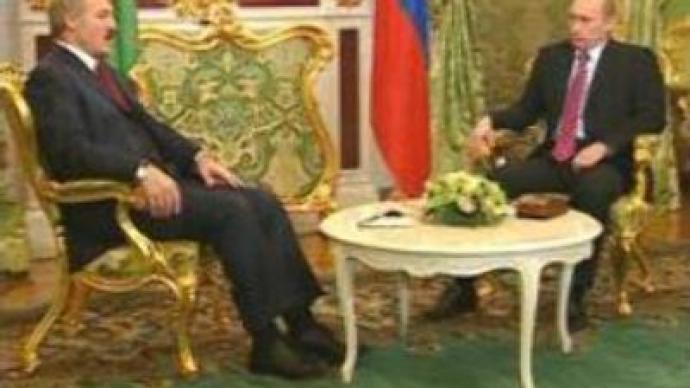 The presidents of Russia and Belarus have held talks aimed at moving the two countries closer to the formation of a unified state. Vladimir Putin and Aleksandr Lukashenko joined other members of the Supreme Council in the Kremlin.
This institution contains politicians representing both nations. The aim of the Council is to join the two countries economically, politically and militarily. President Putin has called the meeting successful and said an agreement on the future budget has been achieved. Commenting on the event, Aleksandr Fadeyev from the Institute for CIS Studies said:
"This meeting is taking place at a time when relations between Russia and Belarus are getting worse. It could lead to unpredictable consequences."
Russia and Belarus have already held negotiations to create a unified state with a common economic, customs and political space, but still cannot agree on major issues.Earlier this week, Russia announced it will introduce customs duties on crude oil supplies to Belarus. The move, which would cost Belarus the equivalent of several billion US dollars, could shatter its economic stability. While this plan has certainly raised some eyebrows, it did not come out of nowhere. In late October, President Vladimir Putin gave his Belarus counterpart a warning.
"We haven't been able to achieve common standards on customs duties. And some issues really give us cause for concern. For example, when we compare the amounts of Russian crude oil supplied to Belarus, the demand in the republic itself, and the volume of oil exported from Belarus – well, we must bring everything in order here. If we don't manage to reach an agreement, we will have to introduce certain limitations,"
President Putin said.The reaction from Belarus was quick.
"We think that introducing custom duties will infringe on a number of current agreements, which determine the free trade arrangement, without exemptions and restrictions, between the Republic of Belarus and the Russian Federation,"
Belarus' Foreign Ministry spokesman Andrey Popov retorted.However, oil tariffs are just the tip of the iceberg. There are many other thorny issues that helped cool relations. Among them are: who owns the gas pipelines in Belarus, the issue of a common currency, and the structure of a unified government. Some say Mr Lukashenko's own political ambitions also come into play.
"The ambitions of the Belorussian leader are great. Even though he himself has denied media reports that he wants to become the leader of the unified state,"
Aleksandr Fadeyev believes.Some experts say the oil dispute may take on similarities to last year's gas row between Russia and Ukraine. One thing that is different, though, is the Western reaction. While in the case of Ukraine Western commentators accused Russia of using its energy supplies as a political tool, in the case of Belarus, however, some are already praising Russia for adhering to free market principles.
You can share this story on social media: