Unexpected baptism: 70 get an ice-cold dip during Orthodox celebrations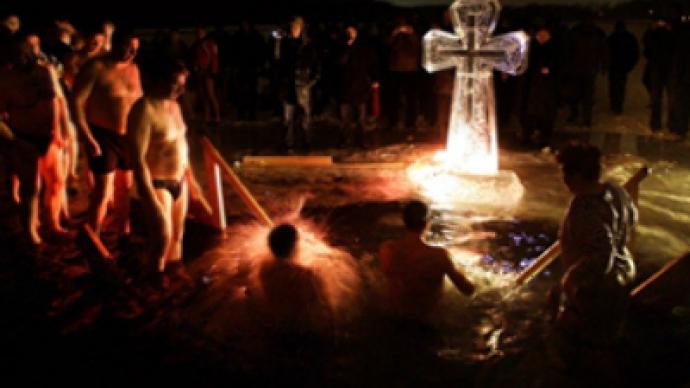 On Sunday night in Tver 70 people accidentally fell into icy water during Epiphany celebrations.
As part of an Orthodox tradition, nearly 500 believers gathered on Sunday night on the Volga riverside in Tver in order to take a plunge into consecrated water on the night of Epiphany, Komsomolskaya Pravda Daily reports. 10 policemen were present to control the situation.
After the priest carried out the ritual of water consecration, people immediately started to rush on to the ice. Part of the crowd was subsequently pushed onto thin ice patches, which couldn't carry the weight of the crowd and soon gave in. About 70 people found themselves in freezing water. It took 10 minutes to rescue all of them safely.
According to the Ministry of Emergencies, there were no victims in the incident and nobody was hospitalized. However, ITAR-TASS reports differently, stating 24 people sought medical assistance, and 11 were admitted to hospitals.
The police have not confirmed any reports regarding missing people. According to some sources, relatives cannot find a 12-year-old girl among those rescued. Divers are at work on the scene.
You can share this story on social media: