2nd team to be deployed to Syria to help destroy chemical weapons (VIDEO)
A second team of inspectors will be sent to Syria to help those already working there to destroy the state's stockpile of toxic munitions, the global chemical weapons watchdog said. This comes as Damascus releases of footage of the first mission at work.
On Tuesday, the destruction of the poison gas arsenal entered its third day. RT has obtained video of experts working in Syria.

On the same day the Organization for the Prohibition of Chemical Weapons (OPCW) said the first team will be rienforced by another mission.

"The OPCW Technical Secretariat in The Hague will deploy a second team of inspectors for the mission in Syria that will augment the advance team of OPCW experts, who have been in Syria since 1 October conducting verification and destruction activities," a statement on the official website read.

The Syrian government agreed to put its chemical arms under international control for elimination after a sarin gas attack on the outskirts of Damascus that killed hundreds of people on August 21.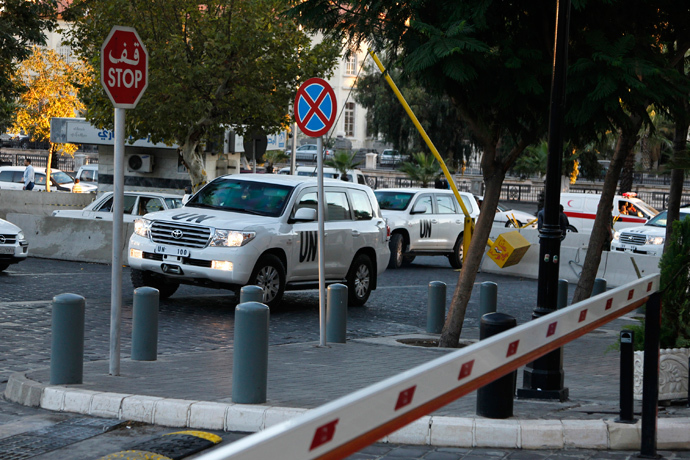 The first team of international experts arrived in the republic on October 1. Damascus has been given until November 1 to destroy production facilities and weapons-filling equipment. On Sunday, Syrian officials – under OPCW supervision – began destroying some of their toxic stockpiles.

The head of the OPCW, Ahmet Uzumcu, also said in Tuesday's statement that Syria had made "a constructive beginning for what will nonetheless be a long and difficult process".

United Nations' Secretary General Ban Ki-Moon suggested setting up a joint UN-OPCW mission comprised of 100 experts to be deployed both in Damascus and on Cyprus to provide additional "operational capabilities" in order to destroy the arsenal.

The list of Syrian arms has not been disclosed, but according to Western intelligence agencies the country has 1,000 metric tons of sarin, mustard and VX nerve gas.