Russia's UN envoy: Radical forces destabilising Ukraine must be stopped
The efforts of radical forces and the self-imposed government in Kiev to forcefully overthrow local authorities in the East are unacceptable and endanger the lives of Ukrainians and Russians, Russia's UN envoy Vitaly Churkin told the Security Council.
"In the eastern part of Ukraine and Crimea in particular we have seen the emergence of people from Kiev with a clear intention of repeating what has been happening in the Western part of Ukraine, they want to replace regional governments," Churkin said, adding that the Crimea authorities have asked Russia to provide assistance to ensure peace and order in the region.

Russia's envoy pointed out that nationalist radical forces are widely represented in what remains of the formerly legitimate authorities in Kiev, and called on the UN Security Council members to influence those forces to refrain from the use of violence.
There was a number of attempts by gunmen to raid and seize local government buildings, fenced off by the self-defence squads in Crimea, and the developments prompted local authorities to consolidate armed forces in the region and ask for Russia's assistance.

Russia's parliament authorized the use of limited stabilizing military forces "on the territory of Ukraine" until the"normalization of the socio-political situation", however the Russian President has not yet ordered such a deployment, Churkin added.

Churkin emphasized that his counterparts' claims and speculations of Russia using or planning to use military forces"against" Ukraine are completely wrong and biased. The Russian president has already spoken about the Ukraine crisis with world leaders including US President Obama and told them about the threat to Russian citizens' lives.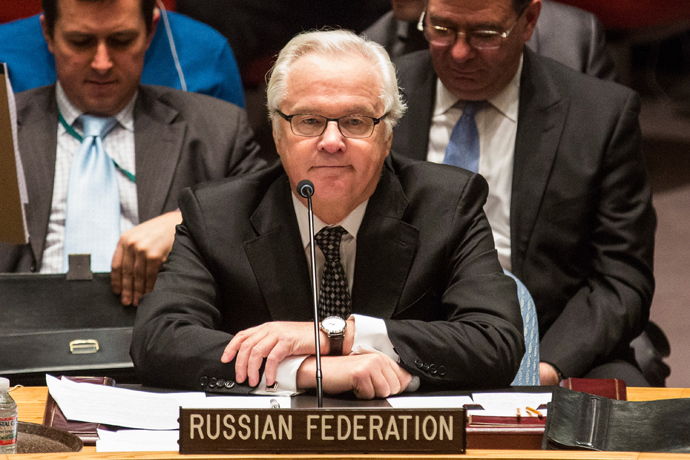 Churkin urged the sides to sit "with cool heads" and go back to the latest decision of Ukraine's legitimate government of February 21, and, as was agreed with opposition forces, to establish a national unity government.
The members of the UN Security Council pushed for an open session on Saturday, giving the Ukrainian ambassador Yuriy Sergeyev a chance to publicly accuse Russia of a "military intervention" and build a case for the legitimate representatives of council member states to further grill Russian authorities.
The US ambassador Samantha Power has claimed that Russian actions are "violating the sovereignty of Ukraine and threaten international peace and security," and called for "immediate deployment" of UN and OSCE observers in Crimea. The day before US President delivered his own "aggressive" remarks on the situation, over which Russian senators are now urging Putin to consider recalling Moscow's Ambassador to the US.
The UN Secretary General in the meantime has called for an "immediate restoration of calm and direct dialogue between all concerned to solve the current crisis."
You can share this story on social media: