UN Secretary General tours Africa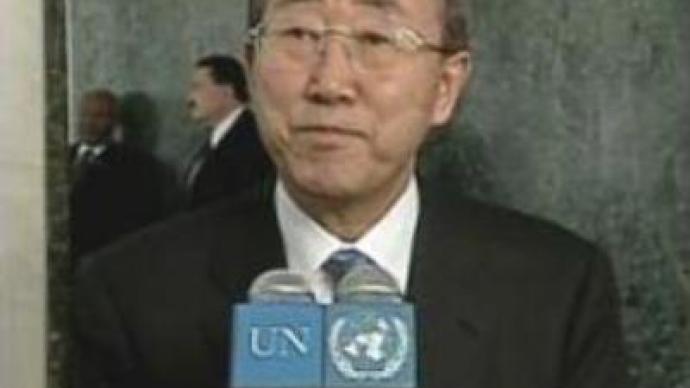 Ban Ki Moon is in Africa on his first official foreign trip as UN Secretary General. The South Korean has promised to continue the work of his predecessor, Kofi Annan, and keep the continent high on the international agenda.
Peace after years of civil war in the Democratic Republic of Congo and the first democratic elections in four decades are seen as one of the great achievements of the United Nations under Kofi Annan. So it was perhaps fitting that Annan's successor, Ban Ki Moon, chose the country for his first official foreign destination as UN secretary General.Mr Ban says he chose to visit the DRC because he wants to pay tribute to the courage and determination of the Congolese people.
"Today the Democratic Republic is a real source of hope for all of Arfrica. The challenges of the future are gigantic. Therefore you can rely on us,"
he promised.The UN currently has 17,000 peacekeeping personnel based in the DRC, making it the body's largest mission anywhere in the world. The mandate for this force is due for renewal by the Security Council in mid-February. And council members face the difficult decision of whether or not to maintain such a high number of troops.Mr Ban will visit several areas in the country, before crossing over to the Republic of the Congo.On Monday the Secretary General travels to the Ethiopian capital, Addis Ababa for the African Union summit, and wraps up his visit with a stop in Kenya's Nairobi. The conflicts in Sudan's Darfur and Somalia will be raised at the summit. It's estimated that violence in Darfur has claimed about 200,000 lives, and displaced over 2,000,000 people. UN aid agencies recently warned there they'll no longer be able to continue their work unless the security situation improves. Likewise factional fighting in Somalia combined with deaths from disease has cost up to 1,000,000 lives, and made over 2,000,000 totally dependent on international aid. Some say by choosing to incorporate the AU summit into his first official visit, Mr Ban is highlighting the importance he places on the African continent, and continuing his predecessor's work.Mr Ban promised Africa would remain high on his agenda and this trip would appear to show his commitment to reversing the humanitarian crises there.
You can share this story on social media: