UN resolution rejected by Russia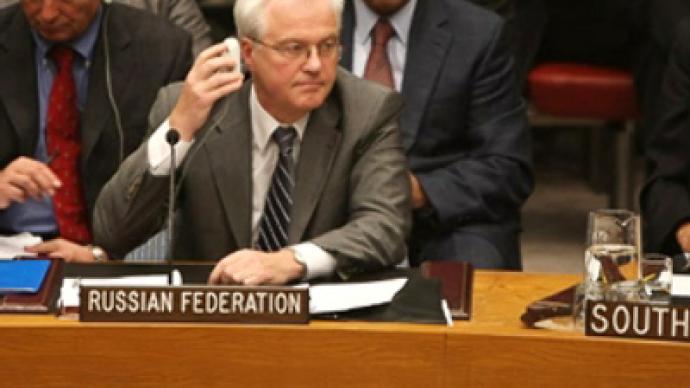 Russia has rejected a new draft United Nations resolution on South Ossetia at an emergency session held in New York. Moscow says the text doesn't entirely reflect the six principles of settling the conflict, drawn up by
The Georgian issue gathered UN Security Council members together yet again. This time it was France that called for the session, calling for a resolution to be drafted and implemented by Security Council members.
With the Medevev-Sarkozy six-point plan on the table, this should have been a simple task. However, there were alterations to the main principles agreed upon by the pair.
Russia says the points left out of the French-proposed paper are far from minor.
"They are not referring to any additional security measures at all. They are referring tog 'the immediate withdrawal of Russian forces and only then'; they are taking things upside down and they are throwing in – to make it even more bizarre – a heavily political clause – about territorial integrity," said Vitaly Churkin, Russia's ambassador to the UN.
Some Security Council members were eager to criticise Russia for keeping troops in Georgia despite an agreement on a ceasefire.
Russia says it's fully complying with the existing agreement and that the meeting is another attempt to portray the aggressor as the victim. Russia also says it will not agree to a resolution that is in any way, shape, or form different from the Medvedev-Sarkozy plan, and a united decision from the Security Council remains at a stalemate.
Humanitarian crisis discussed
Meanwhile, the Georgian ambassador to the UN, Irakli Alasania, has made further attempts at calling Russia's actions destructive.
"I would like to focus your attention on the humanitarian crisis unfolding in Georgia on the territories occupied by the Russian armed forces", he said.
However, according to Russia's ambassador to UN Vitaly Churkin, this is far from the truth.
"No one is carrying out such a large-scale humanitarian operation as Russia is in the conflict zone. No one. No country or humanitarian organisation is doing as much as Russia, and not only in South Ossetia, but also on some Georgia territories", he said.
You can share this story on social media: