UN Proposal on Kosovo's status receives mixed reaction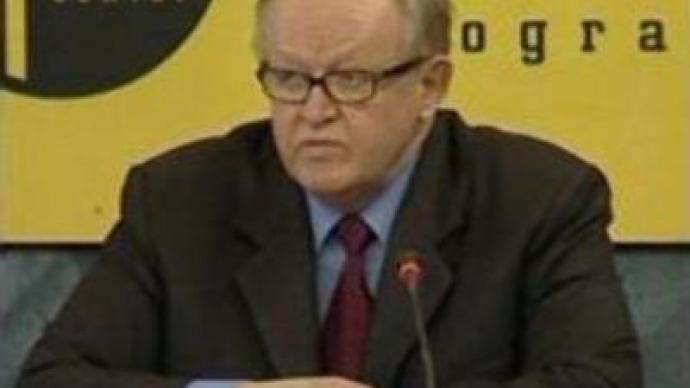 UN envoy to Kosovo, Marti Ahtisaary, has visited the region's capital with a draft proposal for an agreement on the region's status. Albanian leaders are cautiously optimistic about the plan, but Serbians reject it.
Marti Ahtisaary arrived in Pristina at 1 pm local time bringing with him a plan for Kososvo's future status. The plan is controversial, but negotiation is the man's business – it was he who negotiated the 1999 ceasefire and stopped the bombings.
"The aim of the settlement is to lay the foundations for a future Kosovo that is viable and stable, a future Kosovo where members of all communities – Albanian, Serb and others – can live a dignified, safe and economically more sustainable life. A future Kosovo that contributes to the stability of the region,"
Mr Ahtisaari said during a press-conference.In the plan, Kosovo is given all the attributes of a state from a flag and anthem, to the right to join international organizations. Yet its final status in Mr Ahtisaaris vision would be one of supervised independence. Belgrade rejects Ahtisaari's compromise, but Pristina, while not fully happy, is quite optimistic.
"We are not disappointed with Ahtisari's plan, the plan is good. Not in all elements, but in coming weeks we'll have an opportunity to discuss it with Ahtisaari and to give our suggestions and I'm strongly optimistic that his final proposal to the UN Security Council will be much better then the proposal is today. But anyway proposal is good,"
said Agim Ceku, Kosovo's Prime Minister.Also in the proposal are certain obligations for Kosovo towards minorities and their cultural heritage. But that kind of insurance isn't enough for Kosovo's Serbs. Many are considering leaving if the plan comes into effect
"The current argument between Serbia and Kosovo on weather or not should Kosovo be independent is a kind of continuation of the war under a more peaceful guise. Basic attitudes between the two peoples have not really changed that much,"
says Alex Anderson, an analyst from the international crisis group.The final decision on Kosovo's status will now to be made in New York where individual states will vote on a new resolution on Kosovo in the UN Security Council. All eyes are on Russia which plans to veto the resolution in support of its historical ally Serbia.During the visit Mr Ahtisaary has invited leaders of both parties to continue the discussions of his plan in Vienna on February 13.
You can share this story on social media: