UN declares 2014 the 'Year of Solidarity with the Palestinian People'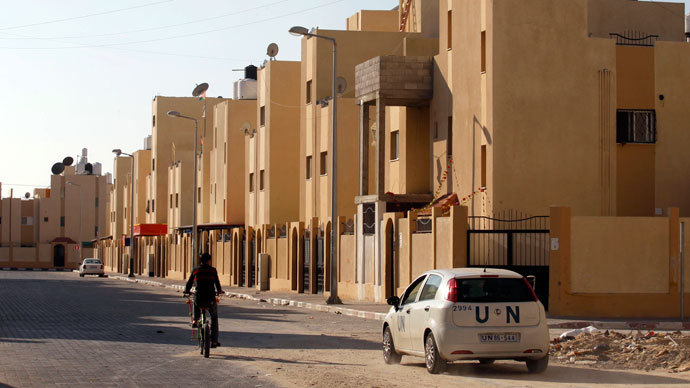 The UN has named 2014 as the 'Year of Solidarity with the Palestinian People.' The resolution was adopted by the majority of member-states with 110 voting in favor, 7 opposed and 54 abstaining.
The year-long observance will entail organizing special events in cooperation with "governments, relevant organizations of the United Nations system, intergovernmental organizations and civil society."
The new resolution was passed on the International Day of Solidarity with the Palestinian People on Monday, which is celebrated annually and this year was moved up from November 29 due to the Thanksgiving holiday in the US.
The UN marks that day with a special session, including a meeting on the 'Exercise of the Inalienable Rights of the Palestinian people' and a concert featuring Palestinian musicians. 
On Monday, Secretary-General Ban Ki-moon voiced the UN's solidarity with the Palestinian people, noting the importance of peace talks aimed at a two-state solution. 
"We cannot afford to lose the current moment of opportunity," Ban Ki-moon said in a message read on his behalf. "The goal remains clear – an end to the occupation that started in 1967 and the creation of a sovereign, independent, and viable State of Palestine based on the 1967 borders, living side by side in peace with a secure State of Israel," Mr. Ban stated.
Palestinians have made significant strides towards self-determination recently. In November of last year the UN General Assembly granted the Palestinians observer status at the international organization, thus implicitly recognizing a Palestinian state. The Palestinian bid has been upheld with 138 votes in favor, 9 against and 41 abstentions.
The new status could give the Palestinians more weight in peace talks with Israel and gives them a greater chance of joining UN agencies and the International Criminal Court (ICC). Joining the ICC would also grant the Palestinian delegation a greater legal basis for pursuing possible war-crimes prosecutions against the Israeli military.
You can share this story on social media: