Mandate mash-up: UNSC to clash on Syrian mission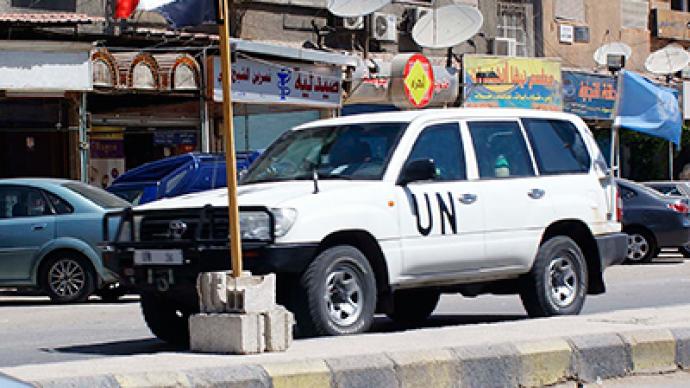 Russia proposes a non-confrontational approach towards transition in Syria as the UN Security Council is to discuss the future of its mission in the country. The US is pushing for a more aggressive take on the Syrian government.
The current 90-day UN mission in Syria expires on July 21. Russia has proposed a draft resolution to extend it for three months. Under the document, it would shift focus from monitoring a non-existent truce to hammering out a transition solution for the conflict.
The draft resolution is "absolutely non-confrontational" and is in line with the decision taken on June 30 in Geneva, says Russia's Deputy Envoy to the UN Aleksandr Pankin.
The conference of leading world and regional powers came up with a roadmap for transition in Syria, which would include forming a unity government with all the sides of the conflict. But neither Damascus nor the opposition forces were thrilled with it, while Russia and the Western countries clashed over interpretations of the document signed there.
"We suggest our partners to work with our draft even though we know that not all of them may like it. There is much talking lately, especially from our Western colleagues, that the only instrument for making Damascus adhere to agreements is sanctions, including those affecting the interests of Russia," Pankin commented.
The United States and European Council members are pushing for a resolution under Chapter 7 of the UN Charter. It allows the council to authorize penalties ranging from economic sanctions up to military intervention. Western powers say they want to apply sanctions rather than force against Damascus.
Moscow believes such a confrontational approach would be counterproductive and would not help stop bloodshed in the country, which has been continuing for 16 months now and taken thousands of lives. Earlier Russia and China vetoed a draft resolution which would put the blame for the ongoing violence on Damascus and fail to mention the opposition's contribution to it.
Russia also calls for better engagement with regional powers, particularly Iran and Saudi Arabia, which have stakes in the Syrian conflict. It mirrors the words of International envoy Kofi Annan, who remarked that Tehran has influence on Damascus and could play a positive role in resolving the situation. The UN envoy was speaking during his trip to Syria and Iran. He is to brief the UN Security Council on his diplomatic efforts on Wednesday.
The suggestion to draw Iran closer was met with skepticism from Washington. State Department spokesman Patrick Ventrell called Iran's role in Syria "destructive" in a reference to its support for the Syrian government against the armed opposition.
"If the Iranian regime wants to stop giving direct material support to the Syrian killing machine, then – and play a constructive role – we would welcome that. We're not at that point yet," Ventrell told reporters Monday.
The US is supporting Syrian opposition forces diplomatically and seeks to act through the "Friends of Syria" group, which does not include Russia or China.
You can share this story on social media: