UN Security Council observes minute of silence for Moscow blast dead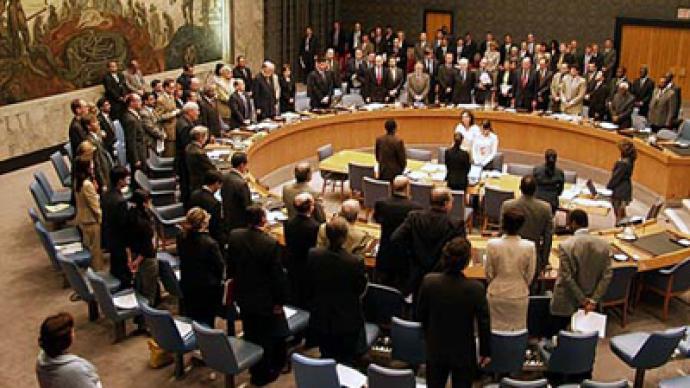 The members of the UN Security Council held a moment of silence in honor of the victims of Monday's bombing at Domodedovo Airport in the Russian capital which killed 35 people and injured scores of others.
The moment was led by the Council's current president, Ivan Barbalić of Bosnia and Herzegovina, who began Tuesday's meeting asking his colleagues to stand up for a minute of silence in memory of the victims of the deadly attack, which claimed the lives of Russian and foreign citizens.Earlier, the UN Security Council issued a statement strongly condemning the terrorist attack at the international airport in Moscow. The members of the body expressed their "deep sympathy and condolences to the victims of this heinous act of terrorism and to their families" as well as to all Russian people.The 15-member Council "reaffirmed that terrorism in all its forms and manifestations constitutes one of the most serious threats to international peace and security, and that any acts of terrorism are criminal and unjustifiable, regardless of their motivation, wherever, whenever and by whomsoever committed," Barbalić said.The council members also reiterated their "determination to combat all forms of terrorism, in accordance with its responsibilities under the Charter of the United Nations".According to Russian Ambassador to the UN Vitaly Churkin, many UN members understand that Monday's terror attack at Domodedovo airport is part of a bigger challenge.  "We have received numerous calls and we are being approached by many members of the United Nations with their expression of sympathy. Some colleagues point out that this time the target of the terrorists was the international airport and that there are foreigners among the victims," he said. "So, in their minds it even more firmly establishes the context, it even more clearly shows that the terrorist manifestations in Russia are a part of general challenge of international terrorism."
As a result of the terrorist attack on January 24, 35 people were killed, including 15 Russians and also citizens of the UK, Germany, Austria, Ukraine, Tajikistan and Kyrgyzstan. Several bodies have not been identified yet. Over 100 remain in hospitals around the capital.
You can share this story on social media: