UN envoys in Serbia to assess Kosovo status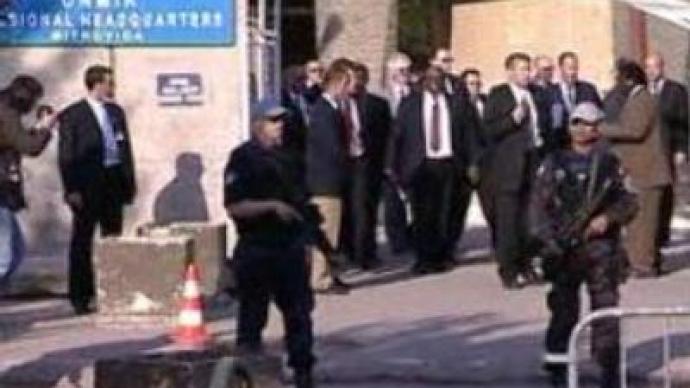 A delegation of 15 envoys from the UN Security Council is in Serbia to assess the status of its breakaway province Kosovo. Meanwhile, tens of thousands have protested the plan on the administrative border between Kosovo and Serbia.
Russia proposed sending UN observers to the area after Special Envoy Martti Ahtisaari presented his plan to grant internationally supervised sovereignty to the province.The Serbs, who had to flee from their homes in Kosovo during the war, still remember the nightmare of 1999. About 10,000 of them gathered on the administrative border between Serbia and Kosovo to remind the international community of their plight.
"I would ask the UN Security Council to resolve the refugee issue first,"
Dragan Krstic, a refugee, said.
"And when the 250,000 refugees get back home to Kosovo, only then we can talk about the status of Kosovo".
For two days protesters have been waiting for the UN Security Mission, which is in the region, to visit them, but the high-ranking delegation preferred to meet Kosovan officials instead.It seems that keeping the balance in all their actions is the main aim of the UN Security Council mission. They spent 30 minutes in the Albanian part of the divided town of Kosovska Mitrovica and then held half-an-hour talks in the Serbian part. It welcomed the mission with a banner "Russia, help us!"Russian ambassador to the UN, Vitaly Churkin, said the tour has already influenced those taking part in it.
"The Security Council members have a chance to listen to what the Serbs have to say,"
he noted.
"It is very important. We tried our best to make the programme of the visit more enhanced, including meetings with people who would give a broader view of what's going on in Kosovo".
The Serbs hope the UN tour will have even more influence on the decision-makers.The UN mission has a chance to listen to Albanian complaints on Saturday, as the last day of the tour is to be full of meetings with local leaders.
You can share this story on social media: