Tripoli "intercepts arms cargo destined for rebels"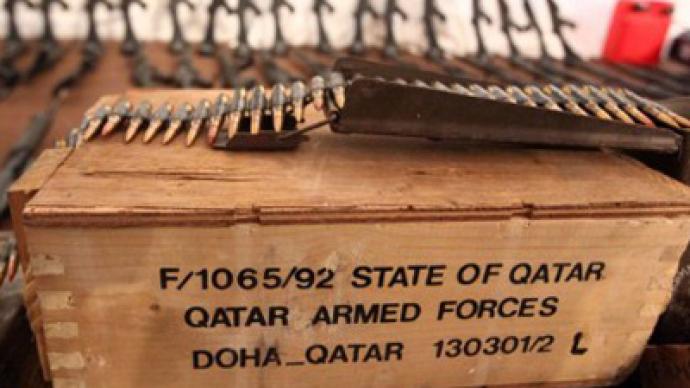 Tripoli says its forces have intercepted two boats from Qatar carrying a cache of weapons for rebel forces. Libya is under a UN arms embargo, but France has admitted to supplying weapons to rebels.
The load reportedly intercepted on Monday is said to have included about a hundred Belgian-made assault rifles, along with thousands of rounds of ammunition.Arms-trafficking expert Brian Johnson-Thomas told RT that the supply of weapons by France is more likely to lead to more human rights abuses than to help protect civilians."All guns start off being legal, but when they get diverted they go God knows where," Brian Johnson-Thomas explained. "And of course with a gun you are in a position to commit various human rights abuses."
The Security Council arms-trafficking expert pointed out that supplying weapons to either side in the Libyan conflict is a measure banned by the UN Security Council.France has been among the main powers behind the NATO-led air campaign, which is officially aimed at protecting civilians from assaults by Gaddafi's forces. However, many view a change of regime in Libya as the main reason for the alliance's involvement there. France's latest move has invoked extensive criticism from Russia and the African Union, while China has indirectly objected to it.
The sending of arms to the Libyan rebels is illegal, yet it has been going on almost since the beginning of the conflict there, believes Mahdi Darius Nazemroaya from Center for Research on Globalization. "It definitely is violating the United Nations' sanction as well as international law. There is something called the ATT [the Arms Trade Treaty] and under the ATT they cannot supply arms to the rebels," he said. "This is not new news either. They have been saying it from March that they have been sending arms to the rebels. In the London conference, the Prime Minister of Qatar said they were going to send arms. He said that in front of Hillary Clinton and all the representatives of the NATO states were there." "Reuters and the Wall Street Journal – they all said that the United States was sending arms through Egypt to the rebels. It is reported, it is documented," Mahdi Darius Nazemroaya added.