Ukrainian Quixote challenges mayor to duel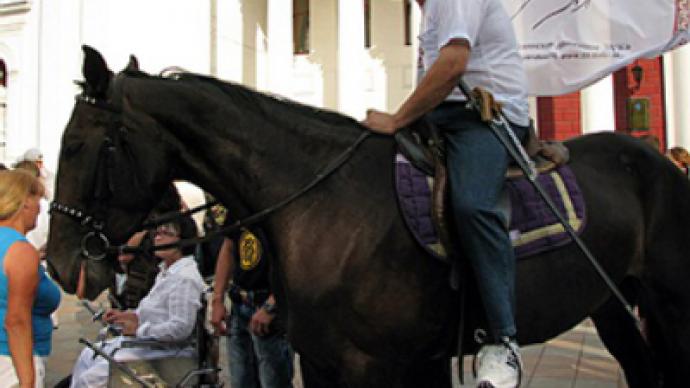 A sword, a horse, the insulted honor of a lady… Passions run high on the Ukrainian Riviera as a modern knight - the leader of an opposition group - has challenged the mayor of the port-city of Odessa to a duel.
The Ukrainian "Don Quixote", Valentin Doroshenko appeared in front of the city administration building on a horse, armed with a home-made sword and accompanied by several dozen "seconds".
The leader of the ZUBR (For Ukraine, Belarus and Russia) movement accused Odessa Mayor Eduard Gurvits of insulting the former head of a control-audit department, Lilia Tomashchevskaya by calling her "a prostitute".
Doroshenko supporters were carrying slogans "Gurvits, come out!" and "We'll take vengeance for Tomashchevskaya's honor!"
The alleged offender, however, didn't turn up for the tourney. Instead, activists from the pro-mayoral organization "For Free Odessa" met the 'knight' and his team. They were wearing doctor's smocks and armed with syringes with brilliant green [an iodine-like tincture].
They said, atv.odessa.ua writes, "Doroshenko has escaped the city madhouse. He is our client. He is seriously ill."
As a result of the brawl between the rival groups, "ZUBR" activists and police, who were there to provide public order, were covered with the green antiseptic liquid.
According to timer.od.ua, one of the pro-mayoral candidates used provocative tactics against the "Don Quixote", trying to scare away his steed and setting off jumping jacks under its legs.
However, that didn't stop the defenders of honor. Eager for revenge, they organized a kind of a boxing ring in front of the mayoral building and put a ceramic toad, which as they said embodied the mayor, in the ring's corners.
Doroshenko defeated the ceramic "Gurvits" and left the scene on horseback.
"Gurvits lost the duel as he didn't show up," the ZUBR leader said, adding a couple of offensive words in his reference to the mayor.
After he had left the square, the duelist was detained by police. Three hours later he was released, but not before having his sword confiscated.
Read also:
US businessman becomes millionaire selling lunar land like cheesecakes
You can share this story on social media: