New Ukrainan president invited to Russia amid tension over election results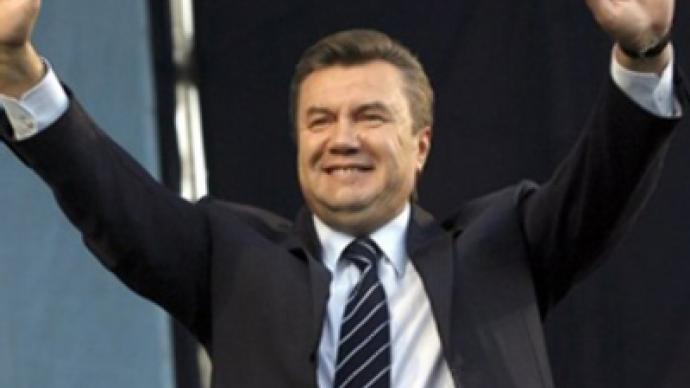 Russian president Medvedev invited Viktor Yanukovich, the newly elected president of Ukraine, to travel to Russia for an official visit even as Yanukovich's ex-rival heads to court to overturn the election.
On Monday, February 15, Dmitry Medvedev sent Yanukovich his greetings and a welcoming message. Further, in offering an invitation for the leaders to meet, the Russian leader said that during Yanukovich's visit to Russia "a wide circle of actual questions of the many-level cooperation between the two countries" may be discussed.
The just-finished election"proved that the citizens of Ukraine sought to end the historically ill-fated attempts to cultivate discord between our countries", said the Russian President in his letter.
This comes after Medvedev's congratulation to Yanukovich on February 9 after the Ukrainian electoral committee estimated that 99,97% of the votes had been counted. Russia's president congratulated Yanukovich on his "success" in the elections, although he never said "victory" since, at that point, the victory was not yet officially declared.
On Sunday, February 14 the electoral committee finally declared Yanukovich the elected president. Now the date for the inauguration is to be selected.
On Monday, February 15, Yulia Timoshenko, Yanukovich's former rival and the current Prime Minister of Ukraine, announced she would challenge the results of the election in court the following day, February 16.
According to the law, the election committee's decision can be challenged within five days – therefore not later than Friday, February 19, says the deputy head of Ukrainian electoral commission, Andrey Magera. Then the court will consider Timoshenko's petition and issue a final decision within two days.
Therefore, by next Tuesday, February 23, a court decision might be made. It is expected that the inaugural celebration may be set on February 25, added Magera.
"But, more correct would be to speak about the date after the final court's decision," Magera told Ukrainian TV Channel 5 on Monday.
You can share this story on social media: