Ukrainian politicos' spats get ever pettier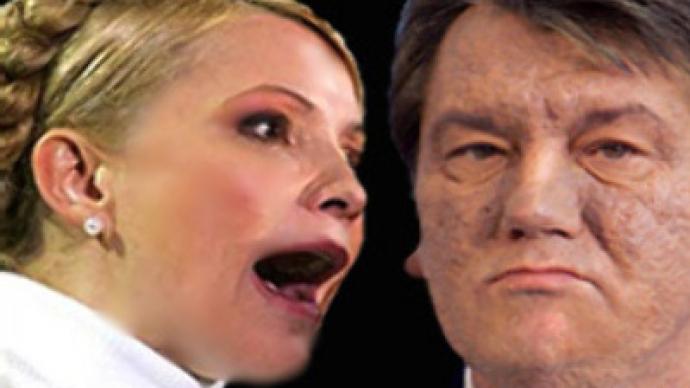 The foibles of the Ukrainian leaders are amusing at first glance. Even if the mix-up with Prime Minister Yulia Timoshenko's plane has a reasonable explanation, it is easy to picture her and President Viktor Yushchenko having a tug-of-war over it and snive
Relations between Yushchenko and Timoshenko have gone from bad to worse since the military operation in Georgia. The president has accused Timoshenko of betraying her country's interests, bandying about words like "high treason" and "corruption" for her unwillingness to comment (the way he wanted) on Russia's actions in Georgia. Timoshenko responded in kind to Yushchenko's accusations after he flew to Tbilisi to stand with Georgian President Mikheil Saakashvili.
The life of the state goes on, however, and Prime Minister Timoshenko is now in Moscow to negotiate gas supplies for her country with Russian Prime Minister Vladimir Putin – not an easy task under the best of circumstances, and undoubtedly harder when she has to scramble to find an airplane to travel on. (The entire Ukrainian government flies with just five airplanes, a State Safety Service official later explained.)
Meanwhile, with no coalition in the coalition government, there may soon be no Supreme Rada (Ukrainian parliament) to approve the gas deal that Timoshenko will almost certainly make. The coalition in the Rada was dissolved by Yushchenko's Our Ukraine- People's Self-Defence bloc a month ago after the Yulia Timoshenko Bloc supported a package of "unconstitutional" laws. The Ukrainian Constitution specifies a 30-day deadline for the formation of a new coalition, and Yushchenko is promising to sign the order burying the parliament right on schedule, in spite of the rapid and conciliated backpedalling in the Rada on the laws passed on September 2.
The president is looking good so far. He has the Rada dancing to his tune and he made Timoshenko squirm on her way to her to serve the Ukrainian public's interests.
The question is, still, how long will such disorder "look good"? Ukraine's Orange leaders are true experts at the game of political edging, and we need not fear for their future together. Unless one of them overplays their hand. Unless the Ukrainian people lose patience with the comic opera that is their political culture. Unless they embroil the less level-headed world leaders they interact with in their personally motivated scandals.
Like the American economy, the stability of the Ukrainian government is a matter of concern far beyond the state's borders. Let's all hope the Ukrainian Supreme Rada is still there tomorrow, that Timoshenko is allowed to return home unhindered, and that the Ukrainian leadership starts to lead again (they pulled off a nifty little revolution once upon a time, after all) and leaves their childish fits and quarrels somewhere safely behind the scenes before the consequences get really out of hand.

Putin-Timoshenko talks under threat
Ukraine involved in illegal arms trade – Timoshenko

Election? I want them all! – Timoshenko
Ukrainian PM lashes out at President
You can share this story on social media: