Ukraine's President and PM try to settle parliamentary crisis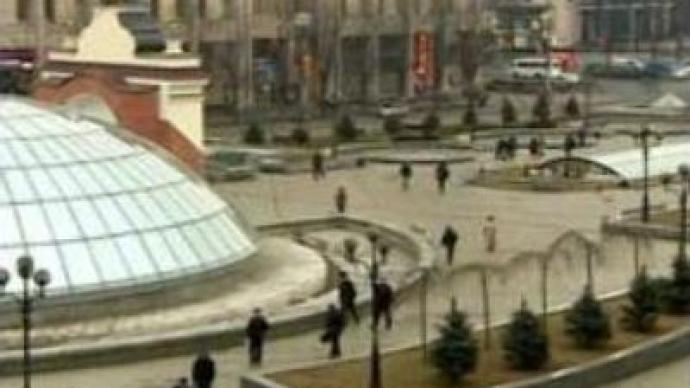 Ukraine's President, Viktor Yushchenko, is holding a meeting with Prime Minister Viktor Yanukovich, Supreme Rada Head Aleksandr Moroz and the leaders of various parliamentary groups.
The meeting being closed for the press, little information has been made available so far. Viktor Yanukovich as well as the leader of the Socialist party, Ivan Bokiy, left the building without making any statements for the press. The focus of the meeting is the parliamentary crisis which occurred when the opposition presented a list of 17 demands to the current government. Among others, the opposition demands the dismissal of Interior Minister, Vasily Tsushko, and General Prosecutor, Aleksandr Medvedko. Another issue on the agenda is changes to the Constitution – aimed to resolve the ongoing dispute between the President and the Prime Minister and find a consensus on the foreign policy of Ukraine. The international image of Ukraine has already suffered due to the fact the sides cannot agree on the post of Minister of Foreign Affairs. The President and the Prime Minister seem to have different opinions on different issues concerning foreign relations, including on the deployment of anti-ballistic missile defence systems in the Czech Republic and Poland. When those plans were announced, Viktor Yanukovich said that these systems might hurt Ukraine's relations with the neighbouring countries, while the President expressed an opposite opinion. However, on Sunday the Prime Minister seemed to have changed his mind and said that perhaps Ukraine should take part in negotiations and discuss the role of Ukraine and neighbouring countries in the deployment of these systems. This meeting actually has no legal force, no binding agreement is supposed to be signed on Monday. It is regarded by most as a sit-down in an attempt to unite the country. The opposition is preparing the so-called Spring March or the March of Justice due to take place in Kiev in May. Meanwhile, the former Minister of Home Affairs, Yury Lutsenko, is travelling around Ukraine and calling people to central squares. The inquiries show that the people are tired of politics and they are against early elections. Also, acting Foreign Minister, Vladimir Ogryzko, allegedly has a meeting with President Yushchenko on Monday. He informed that on Wednesday he is going to Moscow to meet President Putin. No further comments were made.
You can share this story on social media: