Ukraine's parliament holds last session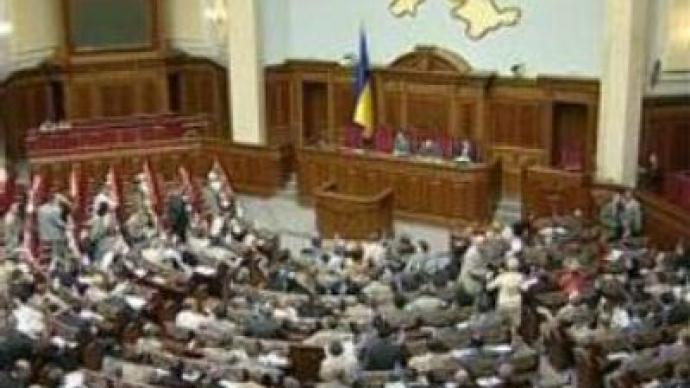 Deputies from all of Ukraine's political parties have returned to Parliament for the first time since the start of the country's recent political crisis when President Viktor Yushchenko issued a decree to dissolve the Rada.
Since April, only the opposition parties gathered in the Rada. But now the dissolution has been annulled, and early elections have been called for September 30, which means the Parliament can temporarily resume its work.The initial mission of the parliamentary session was to revote on all laws which the Rada has passed during the last seven weeks, while being considered illegitimate. And yet again the debate was indeed heated.
"First come the bills which were submitted when where we were still present here, including the bills submitted by our deputies. We approved them,"
said Yulia Timoshenko, the Leader of Tymoshenko Bloc.It seemed like reconciliation, but it wasn't a warm "welcome back" for the opposition from some members of the governing coalition.
"You were doing nothing while we were working hard here during these two months. You are just button pushers. You've come to push the button, that's it. It means the parliament has effectively operated for two months. And don't ask for references to the constitution, it's been trampled on by the guarantor of the constitution and spat at by you,"
Ekaterina Samoylik from the Ukraine's Communist Party stated. However, despite continuing frictions between the opposing political forces, it has been a busy day in the Rada. As many as 53 laws – including a raise in pensions – were voted on. But the main topic on the agenda – legitimate grounds for the early elections – has been postponed until Wednesday. Analysts in Kiev say this is what makes this session a vital one, but it won't be easy.
"I think, this will be a real political battle, because the price of this election is high. They have to understand that his election will not solve all the problems. It will only be a beginning of a new political fighting,"
Valry Chaly, a political analyst, believes. At 10 am on Wednesday, the Ukrainian Parliament will meet for what is expected to be its final session. After that – should all election laws be adopted – the parties will cancel mandates of their deputies, and the future of Ukrainian politics will be in the hands of the electorate.
You can share this story on social media: