Ukraine: Yushchenko postpones early parliamentary elections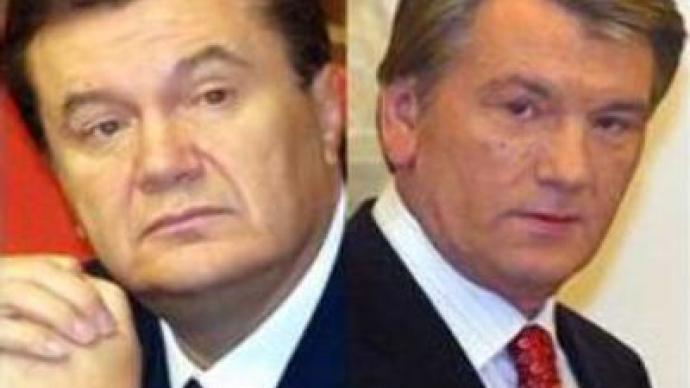 Ukraine's President Viktor Yushchenko has postponed the early parliamentary elections that were due to be held on May 27. He said a delay would give all parties a chance to prepare properly for them.
Parliament elections have been rescheduled for June 24.Mr Yushchenko said a delay would give all parties a chance to prepare properly for the elections.As political turmoil, caused by President's decree dissolving Ukrainian Parliament, the Rada, and his calling early elections, has entered its third week. Independence square in downtown Kiev, already a traditional place for holding rallies, is now emptyof protesters. But the stage, from which slogans were usualy heard, is still there. Archive footage of rallies is running on large screens.The center of political attention has been drawn to the Constitutional Court. Several thousand supporters of both the ruling coalition and the opposition are protesting here and seem to be unwilling to leave until the crisis is resolved.Hearings in the constitutional court on the legality of President Yushenko's decision to dissolve the parliament have entered their eigth day. Rising tension and controversy during the sessions led to five of the judges admitting they were under too much pressure.
"I reserve the right not to answer the questions put by those five judges,"
Vasily Nimchenko, Cabinet Representative at the Ukrainian Constitutional Court stated.
"This is an example of a disrespectful attitude towards judges. This is an unprecedented case in the history of the Constitutional Court of Ukraine when people who are supposed to help the process refuse to co-operate,"
Dmitry Lilak from the Constitutional Court stressed. While heated debates continue, polititans are still looking for a compromise. Both camps of the President and the Prime Mnister have created a joint working group on resolving the crisis.
"People are working. They have proposals. They have a chance to find a compromise. The most important thing is we must not forget the President is not just a position but a guarantor of stability in the country,"
Ukrainian Vice-Prime Minister Dmitry Tabachnik pointed out. The group has already started its work, considering ways to break the current stalemate. But during talks on Wednesday all sides failed yet again to reach an agreement. The only common ground is that the Constitutional Court's decision, whenever it comes, is unlikely to change things. From now on, the Court will work behind closed doors as hearings have reportedly entered their final stage.But from President Yushchenko's latest announcement you could be forgiven for thinking he already knows the Court's verdict. He said he is willing to compromise, postponing parliamentary elections from May till late June.But whether elections actually do take place is for the Court to decide, and that decision is expected within a matter of days.
You can share this story on social media: