Ukraine refuses to side with Georgia at UN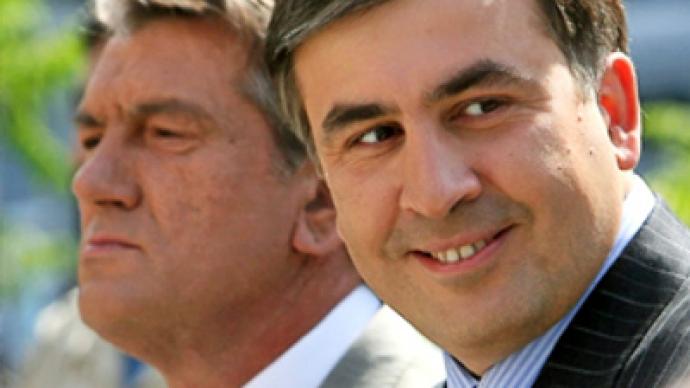 Despite great expectations, Ukraine didn't support Georgia in New York , where 63 session of United Nations Assembly was held Tuesday . Ukrainian president Victor Yushchenko remained neutral in his comments on being "the
Answering numerous questions of American audience Victor Yushchenko avoided any negative rhetoric towards Russia and preferred not to draw parallels between Georgia and Ukraine. Answering the question whether Ukraine considers itself to be "next Russia's target", he kept neutral. "Ukraine is not Georgia," he said. "We are different in terms of opportunities and characteristics." He also stressed a need of a constructive dialogue between Russia and Ukraine.This went rather out of tune with support for Georgia in its conflict with Russia, previously expressed by the Ukrainian leader.
At the same time Georgian leader Mikhail Saakashvili remained strongly defensive. Saakashvili accused Russia of invading Georgia during a five-day war in South Ossetia and violation of Georgia's territorial integrity. Russia recognized South Ossetia and Abhazia as independent states whereas Tbilisi insists these territories be a part of Georgia. In his address to the Assembly Saakashvili said, "We should unite and follow a policy of non-recognition with regard to the two separatist provinces of Georgia… We need to set up a full fledged process at the UN to resolve the conflict by peaceful means, which will reunite Georgia."

He also called on United Nations member states not to recognize breakaway South Ossetia and Abkhazia and welcomed the idea of conducting the independent investigation on causes and consequences of South Ossetia war.
Georgian rhetoric was strongly supported by J W Bush. "The UN Charter sets forth the 'equal rights of nations large and small.' Russia's invasion of Georgia was a violation of those words. Young democracies around the world are watching to see how we handle this test," the American president said in his farewell speech to the UN General Assembly.
The U.S. position came at no surprise to Russian Foreign minister Sergei Lavrov. «(We heard) the repeat of the US position regarding the situation in the Caucasus. This wasn't news to us. The main thing is that all the fervour of the (George W. Bush's) speech was aimed at accentuating the problems, which could not be resolved without joint efforts,» he said.
What really unites Ukraine and Georgia at the moment is their urge to join NATO. Victor Yushchnko stressed Ukraine's strong wish to join the bloc at the nearest convenience whereas Saakashvili voiced his intention to move Georgia to true democracy to make it a more attractive international partner.
Russia strongly opposes the idea of bordering militarized NATO members, viewing as a threat to its security.
On Wednesday, the presidents of Ukraine and Georgia have held a meeting with the U.S. Republican presidential candidate, John McCain.
Viktor Yushchenko and John McCain discussed the state of U.S.-Ukraine relations and Ukraine and expressed hope that the current positive tendencies will receive further development after the U.S. elections. The other issue on their agenda was energy cooperation and creation of a pan-European energy space.
You can share this story on social media: