Ukraine 'ready' to sign deal on gas monitors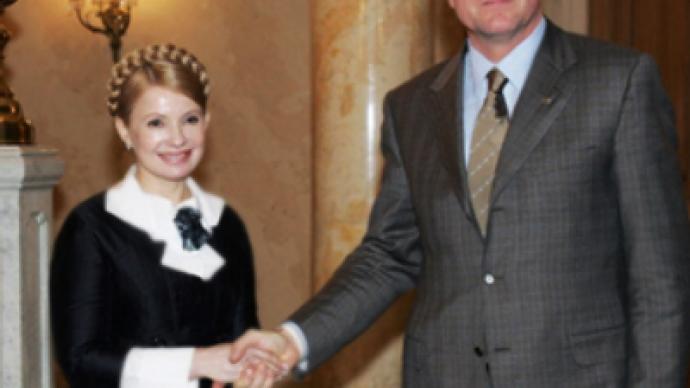 Ukraine says it is prepared to sign a deal for the deployment of international gas monitors in the country as soon as possible.
Prime Minister Yulia Timoshenko made the pledge after a meeting with her Czech counterpart Mirek Topolanek in Kiev.

Earlier Russia and the EU signed a deal to monitor the flow of gas through Ukraine. It came after talks between the Russian Prime-minister Vladimir Putin and his Czech counterpart Mirek Topolanek, whose country holds the EU's rotating presidency.
Gazprom chief executive Aleksey Miller said once the deal is signed and the multilateral monitoring commission starts working, Gazprom will pump a minimal amount of gas through Ukraine – aimed particularly at the Balkan states. If none of this gas is stolen en route, he said, the amount will be increased immediately.
Putin said that Europe had been warned of the possible danger:
"We understand the nature of the dramatic situation currently in Europe which has arisen because of Ukraine's adventurist decision to cut off gas supplies – a move which actually means a gas blockade of Europe. We warned our EU partners about the danger".
The Russian prime minister also said that only when monitors are deployed at gas controlling stations can Russia guarantee the safety of gas supplies to Europe.
"But if the theft of Russian gas by Ukraine begins again, Russia will restrict supplies again," he stressed.
Meanwhile, Gazprom welcomed Ukraine's decision to send its own gas supplies to Bulgaria, which is experiencing severe fuel shortages. The Russian energy company says it corresponds to the Energy Charter signed by Ukraine.
Ukraine insists it hasn't stolen any Russian gas. It claims it is ready to resume gas deliveries to Eastern Europe within 36 hours of Russia reopening the pipes to Ukraine.
Europe has not received any gas from Russia since Moscow was forced to fully stop sending gas through Ukraine on 7 January. Gazprom says supplies to Europe are down 86 million cubic metres since the beginning of the year.
Matters have been made worse because the continent is in the midst of bitterly cold winter snap.
Russia's energy giant says Kiev still owes it more than US$600 million for earlier gas deliveries.
Negotiations on a new contract between the two countries remain on hold.
You can share this story on social media: