Outrage as Ukrainian opposition journalist found roughly beaten near Kiev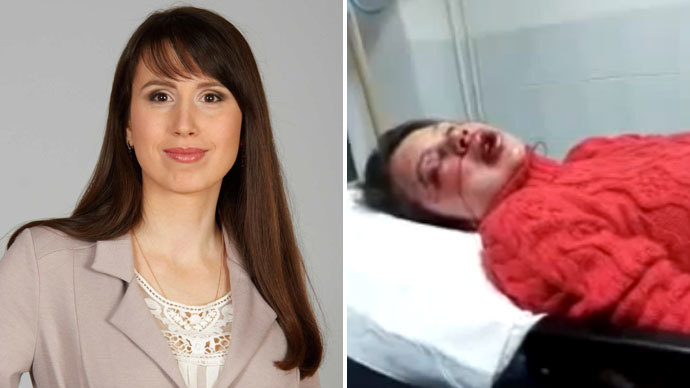 A road police patrol found the badly beaten opposition journalist, Tetyana Chornovil, in a ditch outside Kiev. Ukrainian authorities, leaders of the opposition and foreign officials are demanding an immediate and thorough investigation into the crime.
On Wednesday night, law enforcement officers found a Chevrolet Aveo 'parked' in a ditch on the highway connecting the Ukrainian capital and Borispol international airport. Inside the car, they found journalist Tetyana Chornovi, who had been badly beaten up. They immediately took her to a hospital for treatment.
A video later showed an unconscious woman with bruising over half her face, swollen lips and cuts across her cheeks. Medics applied several stitches to the journalist's face and said she had suffered concussion and multiple broken bones. The 34-year-old journalist might require at least three operations.
By evening, Chornovil was still said to be in a serious condition, the 'Ukrainian News' news agency reported. Still she managed to make several comments about the incident, and a criminal investigation was immediately launched.
The journalist said she was driving to the village of Gora when she noticed her car was being followed, Ukrainian journalist Mustafa Nayyem stated on his Facebook account.
Chornovil allegedly attempted to get away but a 'dark colored' SUV car intercepted her vehicle and forced her to stop. Then two men attacked her vehicle, breaking the side windows. When Chornovil attempted to run away, the men beat her up and drove her car into a ditch. Reportedly, the attackers did not say a word during the battering.
The journalist was unable to describe the appearance of the attackers to the police, but her car was equipped with a dashboard camera.
Three suspects accused of beating the journalist have been detained by the police, according to Interfax-Ukraine.

Police do not rule out that the brutal beating could have been caused by Chornovil's involvement in a road traffic incident, a law enforcement source told local agency UNN, adding that cases of angry motorists using excessive force against others are not uncommon.

Police are checking all nearby surveillance cameras and are questioning witnesses, the source added.
The footage of the severely beaten journalist sent waves of shock and outrage across Ukraine.
"There is no doubt that [the] aggression against Tetyana Chornovil is connected solely with her journalistic activities," opposition leader, Arseny Yatsenyuk, declared. "This is in no way ordinary hooliganism; this severe beating is connected with [her] professional activities."
Ukrainian President Viktor Yanukovich has ordered Minister of Interior Vitaly Zakharchenko and Prosecutor General Viktor Pshonka to personally supervise the investigation of the case.
"The President of Ukraine strongly condemned this violence and stressed that law enforcement agencies need to solve this crime and bring the perpetrators to justice," the press service of the head of state said on Wednesday.
Dunya Miyatovic, the media freedom representative of the Organization for Security and Co-operation in Europe, also voiced concerns.
"I welcome Yanukovich's condemnation of the violence and call on the authorities to carry out a quick and thorough investigation," she said.
WARNING: Graphic video
Tetyana Chornovil became known in Ukraine for doing a number of investigative reports on officials' activities. According to unconfirmed reports in Ukrainian blogs, on the day prior to the assault she was collecting material for new revelations.
During the Maidan standoff between protesters and police on Independence Square in Kiev, Chornovil became involved in some rather controversial activities.
On December 1, a column of protesters proceeding to Maidan detained a group of provocateurs who were attempting to smash the windows of the mayor's office and storm the building. The group of young masked people, dressed in black and wearing orange safety helmets, was surrounded by opposition activists, who tore the masks off their faces to take photos of the youths for further identification.
It turned out that the group was led by Tetyana Chornovil.
"I bear full responsibility for this and I'm ready to go to prison," the journalist declared at the time, as cited by the Ukrainian edition of Kommersant Daily.
The beating of Chornovil is not the only incident involving journalists in Ukraine this winter.
While police were dispersing protesters in downtown Kiev in early December, up to 40 journalists were injured in clashes, according to Ukraine's Liga news agency.
On December 16, a prominent journalist, Yury Kot, was seriously beaten up after he led a demonstration in support of the ruling president. During the rally the journalist received several text messages threatening himself and his relatives. Later on, a man attacked Kot near his home, knocked the journalist down, broke his nose and several ribs. The assailant has yet to be identified.
You can share this story on social media: