Ukraine: Opposition deputies resign from Rada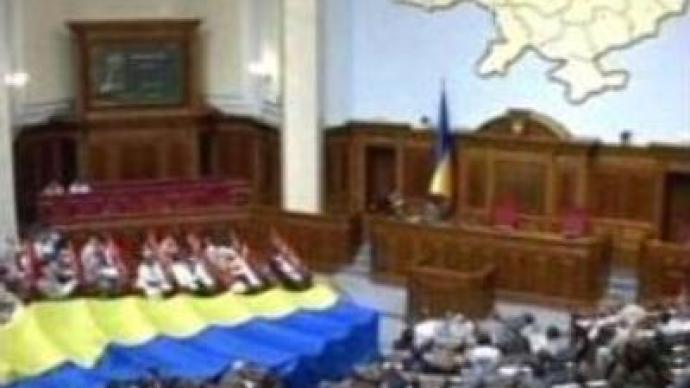 In Ukraine, more than 150 opposition deputies have decided to pull out of the Parliament (the Rada). Ukraine's President Viktor Yushchenko commended them for the unprecedented move.
The Parliament has been dissolved on legal grounds after the majority of deputies agreed to step down in order to enable early elections on September 30. Earlier, it approved a package of laws and allocated funds paving the way for the snap vote.An early election brought the former orange allies, the Yulia Timoshenko's Bloc and the Our Ukraine party, back together again.
"When you are setting off on a long journey with a big team where each has their own experience, you need time to confirm your mutual goal. I am sure that this meeting signalled not only the end of the crisis but the start to a shared election campaign that will be conducted in peace rather than war,"
said Andrey Shevchenko from the Bloc of Yulia Timoshenko. To announce their resignations, the deputies organized national forums. By the Constitution of Ukraine, if two thirds of the Parliament leave their posts, then the Rada will become automatically inactive.
"We have all witnessed how difficult was the discussion in the Parliament. And on many occasions, deputies from governing coalition were a step away from breaking the agreement of our leaders. But we got through,"
said Vyacheslav Kirilenko, the leader of the Our Ukraine party. An overwhelming majority agreed to eliminate their own parties, following months of long disputes in the Parliament. Legal amendments served a condition to this historical event. Changes to the laws on election, state budget and central election committee formed a string of compromise.
"I hope the central election committee will not turn into a mini-parliament where sides constantly fight each other. Hypothetically, it is possible given an even number of representatives from rival parties in this committee. I hope they will put aside their interests and secure an honest vote,"
said Ruslan Knyazevich, a member of the Our Ukraine party. But despite the visible unity and accord, the opposition seem to doubt their success in the next parliament.
"We seem to march together but at the same time as two separate forces in opposite directions. And it is difficult to explain both to our voters and politicians. I will do everything possible to unite our democratic parties,"
stressed Pyotr Poroshenko, a member of the Our Ukraine party. The Rada is likely to reconvene for one last time to accept the resignation of the opposition deputies. From that moment, Ukraine will start getting ready for an early election in September.
You can share this story on social media: