Ukrainian Navy flagship takes Russia's side – report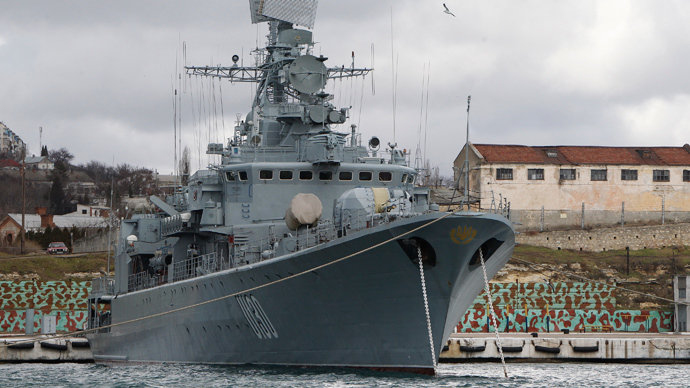 Ukraine's Navy flagship, the Hetman Sahaidachny frigate, has reportedly refused to follow orders from Kiev, and come over to Russia's side and is returning home after taking part in NATO operation in the Gulf of Aden flying the Russian naval flag.
There has been conflicting information on where exactly the vessel is, but a Russian senator has confirmed to Izvestia daily that the frigate defected to the Russian side.
"Ukraine's Navy flagship the Hetman Sahaidachny has come over to our side today. It has hung out the St Andrew's flag," Senator Igor Morozov, a member of the committee on the international affairs, told Izvestia daily.
He said the flagship is on its way back to the Black Sea after drills in the Mediterranean. "The crew has fulfilled the order by the chief commander of Ukraine's armed forces Viktor Yanukovich," he added.
The move comes after the Navy command resigned Friday. Self-appointed President Aleksandr Turchinov made Rear Admiral Denis Berezovsky the new Navy Chief, a statement published on the President's website Saturday said.
Arseniy Yatsenyuk, the Prime Minister of Ukraine had earlier asked his Turkish counterpart Recep Tayyip Erdogan not to let the frigate through the Bosporus strait, according to the Kiev Times. The ship captain and the head of Ukraine's contingent in the operation, Rear Admiral Andrey Tarasov disobeyed orders from Kiev.
The Hetman Sahaidachny returns to Sevastopol, Crimea after taking part in a joint counter-piracy operation with NATO and the EU off the Horn of Africa, reported UNN on Friday, citing Ukraine's Defense Ministry. On February 26, after crossing the Suez Canal, the ship entered the Mediterranean Sea and was expected to be in Sevastopol in early March.
You can share this story on social media: