Ukraine's new National Guard raises fears in country's east
The new army of the coup-imposed government in Ukraine has begun training exercises outside Kiev. Although the National Guard's roles are law enforcement and border protection, many in the country's east fear the military unit will work against them.
Concerns over the loyalty of the Ukrainian army and security agencies have pushed Kiev to start forming an additional armed branch, which it will fully control.
The National Guard is designed to be 60,000-strong and completely independent from the country's military and police.
Recruitment across Ukraine began on March 13, with around 20,000 people already joining the new uniformed service.
"Most volunteers have battle experience. Most of them protected the rights and freedom of citizens of Ukraine at Maidan," Stepan Poltorak, a commander with the Ukrainian Interior Troops, told RT.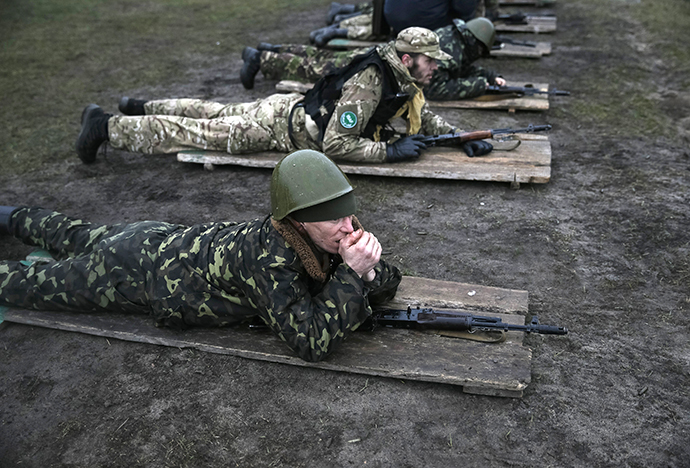 But many of the recruits taking part in the first National Guard exercises, which are underway at the internal troops training center near Kiev, admit that their military background is sorely lacking.
"There are many guys who haven't used a submachine gun for a long time," one of them said.
Another volunteer described the exercises as a "course of a young soldier. We have two weeks to learn gun, tactics, and discipline."
National Guard recruits are being handed serious military equipment – armored vehicles, rocket launchers, machine guns, and grenades are being used during training.
RT contacted the National Guard recruitment office in Donetsk to find out just how easy it is to sign up for the force.

"You conclude a contract on a term of five or three years," the operator on the phone said. "Salary is 1,800 hryvnas (around US$300). You have to be suitable in health and have no convictions or fines with the police. You should be from 18 to 40 years old," the office stated over the phone.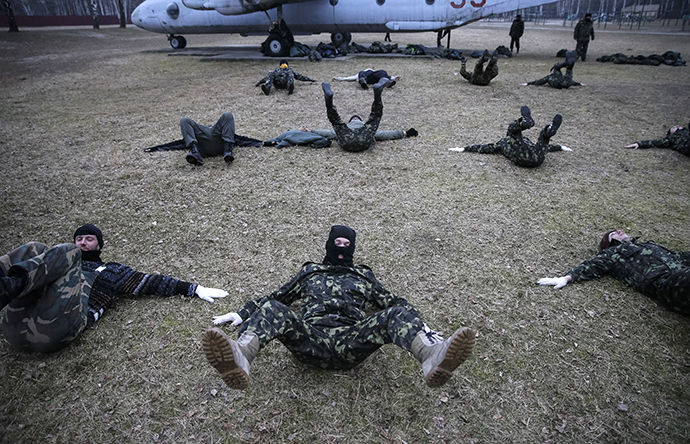 The coup-imposed government says the National Guard will be tasked with law enforcement duties, protecting the country's borders, and fighting terrorism.
However, many in Ukraine – especially in the country's southeast – fear the new force will eventually turn their weapons against them.
"People in Kiev are armed, even the civilians. We received information not long ago that weapons are being sold for 1,000 hryvnas (around $100) for one Kalashnikov assault rifle and three magazines," Alexey Garonin, a pro-Russia activist from Donetsk, said.
Combat efficiency of the National Guard has become one of the main priorities for the self-proclaimed Ukrainian authorities.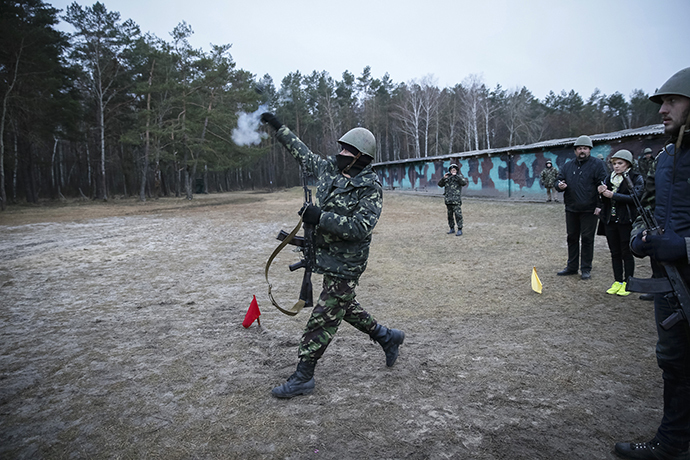 Last week, a source familiar with events in the Ukrainian Defense Ministry told RIA-Novosti that "the major part of the US financial aid" to the country will be spent on the new security force.
Political analyst Sergey Baryshnikov believes Kiev sees the National Guard as a way of insuring safety in a country where so many militant groups, such as the Right Sector, are acting absolutely freely.
"They can't manage it," Baryshnikov said of the coup-imposed government. "They control the center of Kiev at best, even Kiev they don't control. They have huge incidents of robbers taking over banks, offices, crime rackets, and other terrorist activities. So they can't control it now and won't be able to."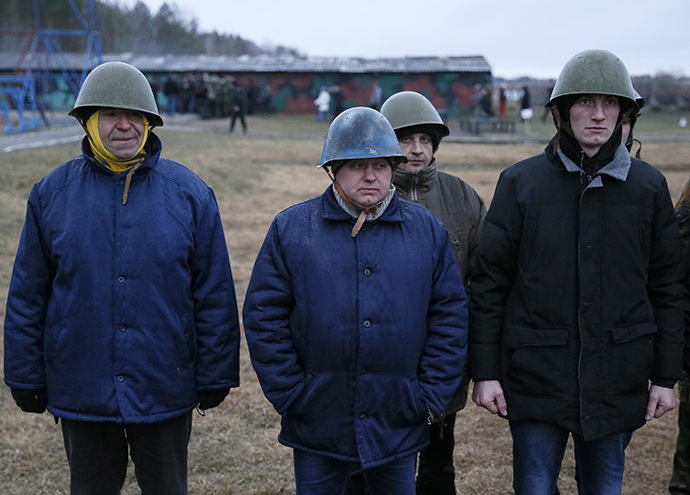 You can share this story on social media: