From a sea of flags to rivers of blood: How Kiev's peaceful protests turned into Maidan mayhem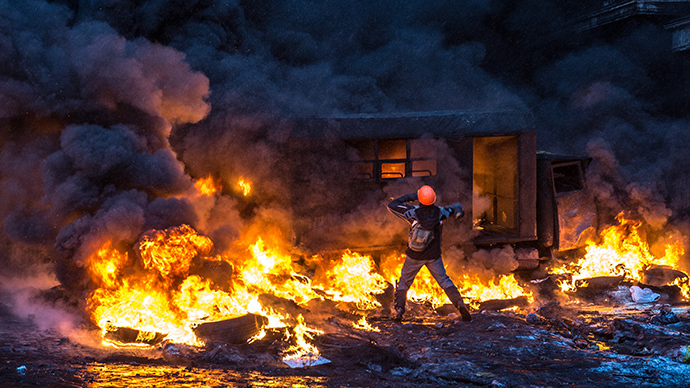 When smiling young demonstrators turned out to Kiev with EU flags in November, one could hardly imagine that within just three months, the protests would be usurped by masked rioters with guns.
Flag-waving protesters chanting "Ukraine is Europe!" took to the streets of Ukrainian cities after President Viktor Yanukovich postponed the signing of the EU association agreement on November 21, 2013.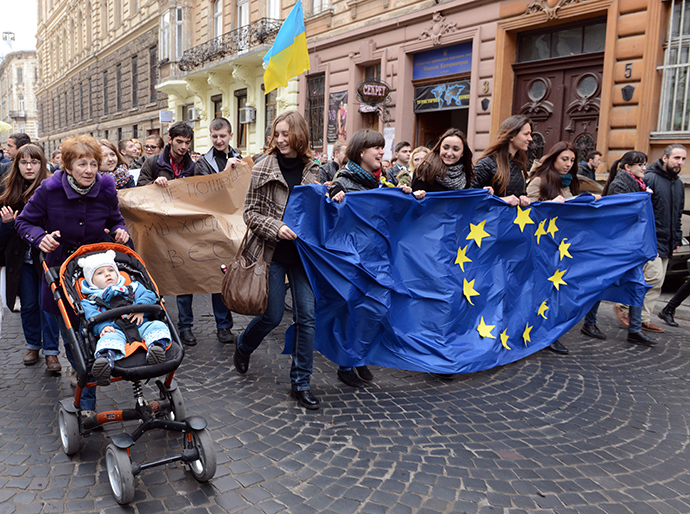 Those critical of the government's decision believed that a new, bloodless Orange Revolution was on the rise, and that peaceful protests would easily force Yanukovich's government to fulfill the demands of the opposition-led crowd.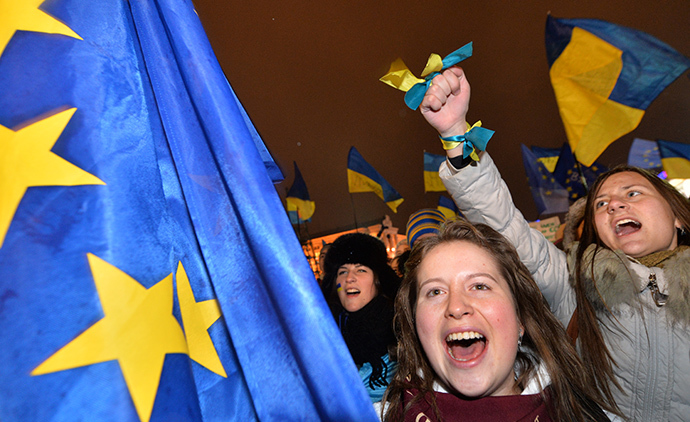 Protesters held hands, forming human chains. They sang, danced, and waved anti-government and pro-EU placards amid an almost festive atmosphere. National flags dominated the demonstrations.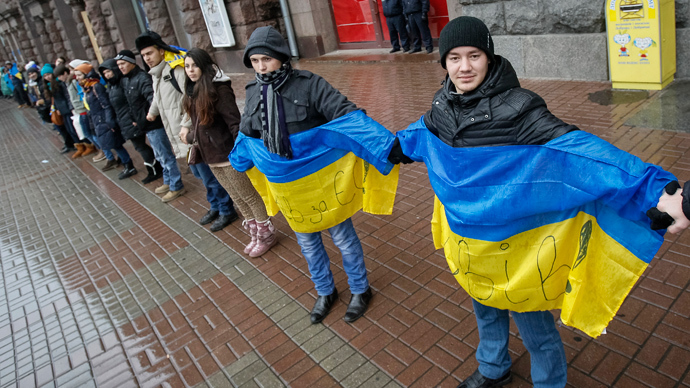 Few paid attention to the scuffles that occasionally broke out between aggressive masked youngsters and police in Kiev. Attempts to storm government buildings were thwarted by law enforcement officers.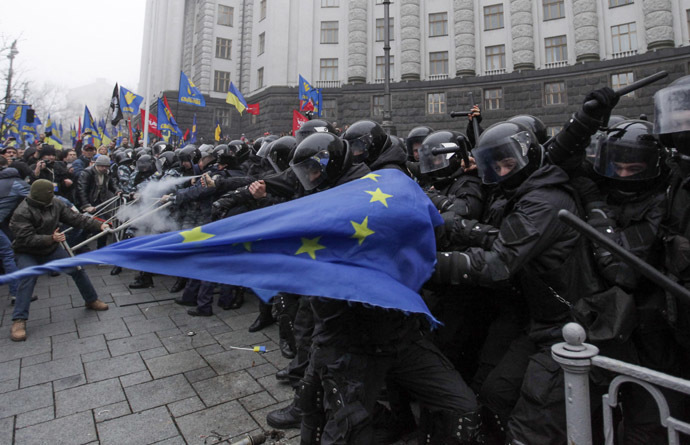 The opposition fueled the crowd's energy with promises that they would not leave central Kiev until the government was reshuffled and the EU deal was signed. However, the protests did not come anywhere close to the scale of the 2004 rallies, and the stage rhetoric did not work. The demonstrators began to grow tired of fruitless protests. Meanwhile, pro-government rallies took place in Kiev and several other regions of the country, showing that not all Ukrainians were pleased with the terms of the EU deal that threatened to undermine the country's economic ties with Russia.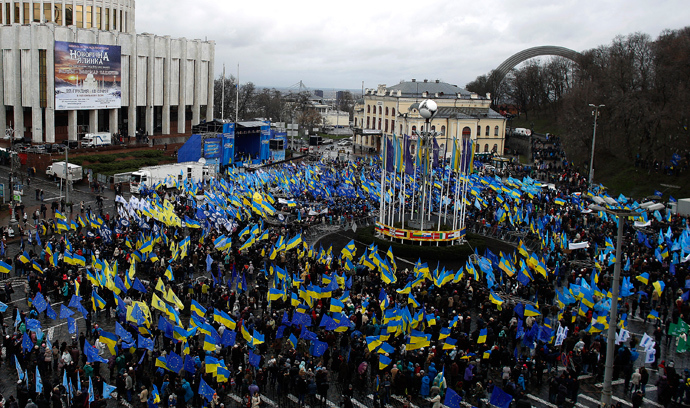 The protests in Kiev suddenly received a second wind after the harsh dispersal of a rally on Independence Square (Maidan) on November 30, for which the city's police chief was sacked.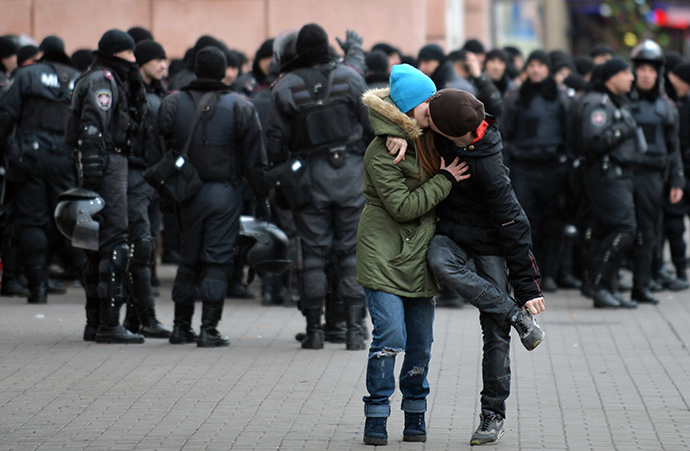 The Maidan demonstrators shifted their energy from the EU deal towards clear demands to topple the government, despite Western media still calling them "pro-EU integration protesters." Nationalist red and black "Bandera flags" dotted the rallies in Kiev and in Western Ukrainian cities.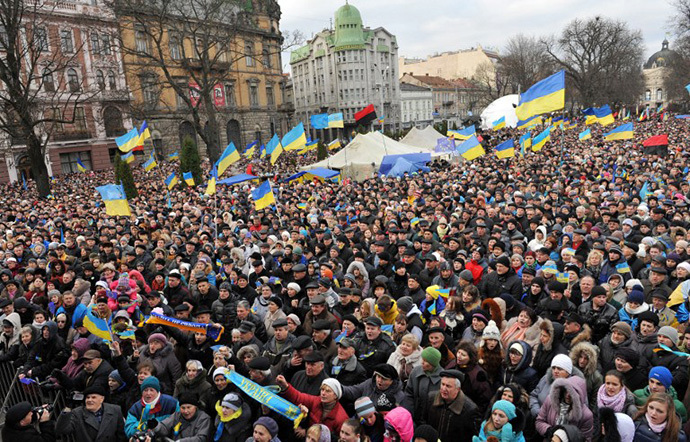 In Kiev, violent rioters armed with makeshift weapons, flares, and even a tractor managed to hijack the mainstream media's attention as they pounced on police cordons, despite some protesters' attempts to prevent the clashes.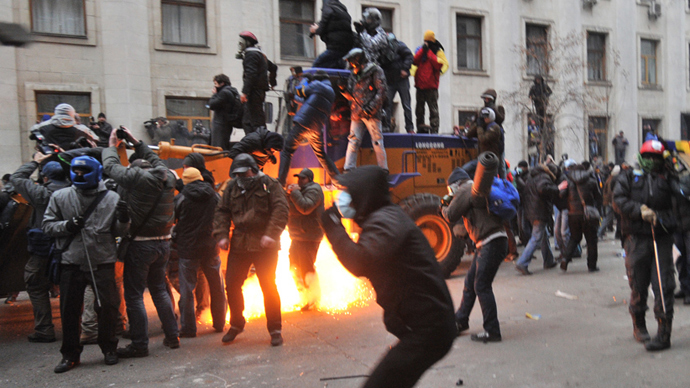 At first, the rioters were blasted as "government provocateurs" by the opposition. Just a few weeks later, the same masked people would be hailed as "heroes of the revolution" and the opposition would demand that they not be called provocateurs.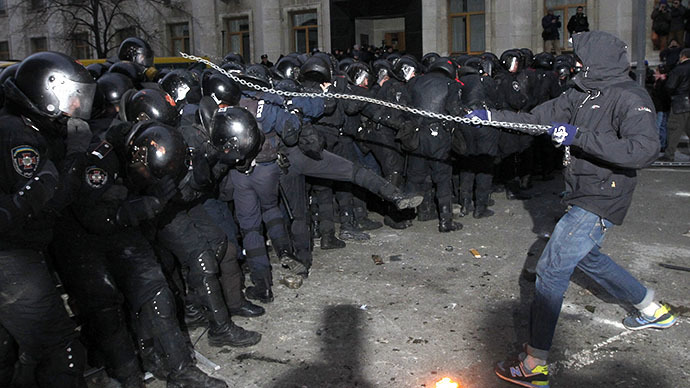 As barricades were erected and administrative buildings were seized in central Kiev, well organized and well equipped members of radical groups formed part of Maidan's "self defense" against police. The Right Sector movement, uniting several nationalist groups, took part in the action.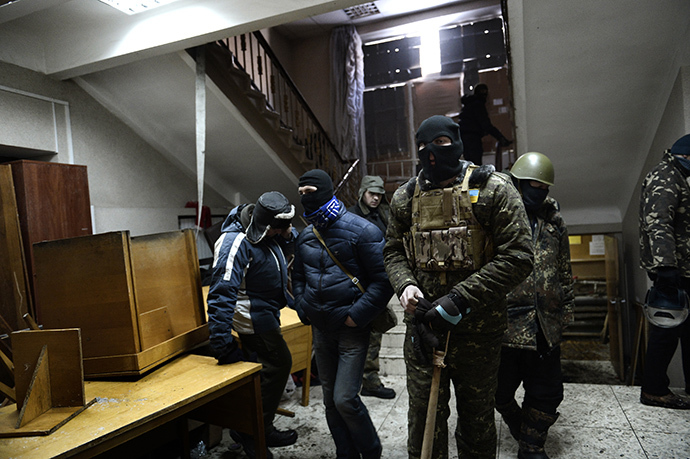 For some time, peaceful protesters coming to Maidan attempted to dissociate themselves from violent riots. Masked and armed people co-existed on the square with those sharing food and tea and tirelessly piling up meters-high barricades on Kiev's central streets.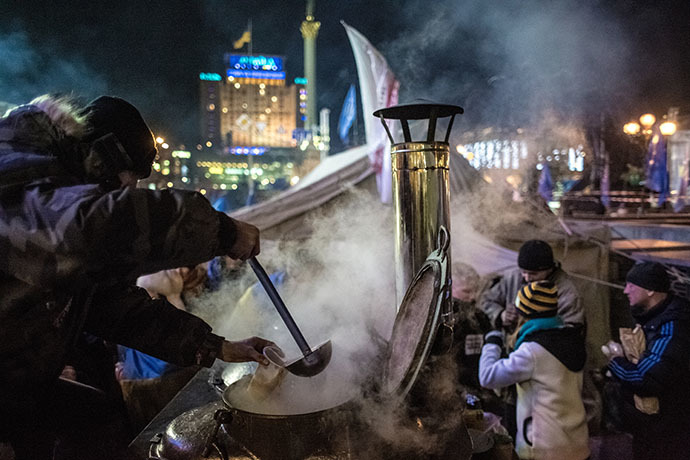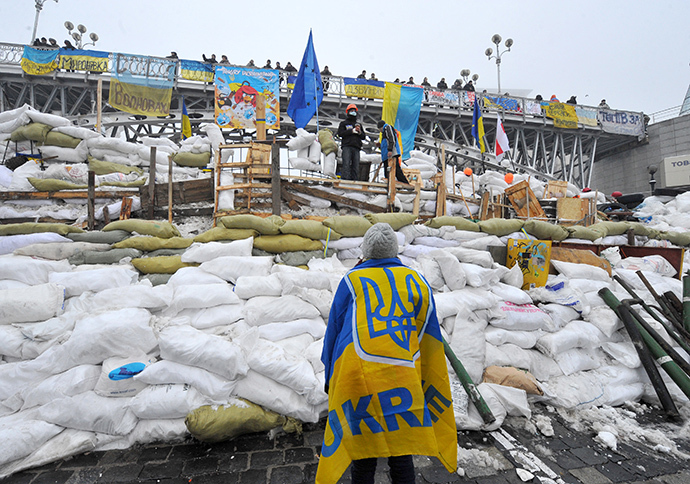 However, there became a silent acceptance of Maidan's "battlefront" after Kiev officials passed new public order laws and central streets of the city exploded with flames. As rioters hurled Molotov cocktails at police cordons and vehicles, some people on the square supplied them with hastily-made petrol bombs. Opposition leaders fruitlessly trying to calm the rioters down were booed at and sent away.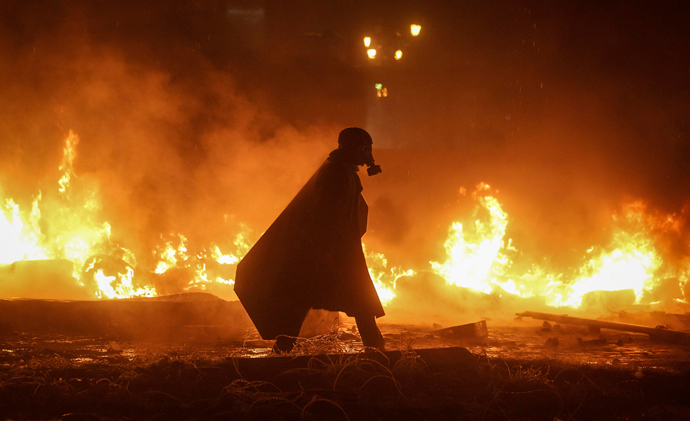 As clashes escalated and the first deaths at the barricades were reported during police retaliation, the rioters began to get serious about arming themselves. While some laughed at a catapult constructed to hurl rocks and firecrackers at police, rioters were already arming themselves with light firearms and wearing gas masks and body armor.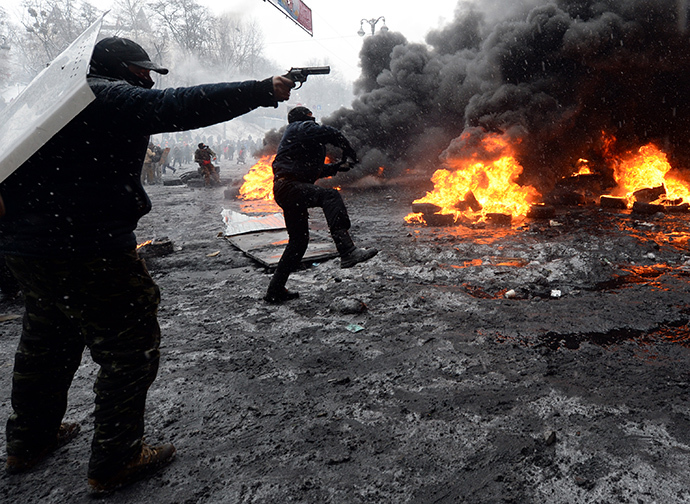 The situation took an even more grim turn when a group of radicals that were taking part in a "peaceful march" of the opposition attempted to storm Ukrainian parliament. The violence spread, despite previous arrangements of a ceasefire between the opposition and the government.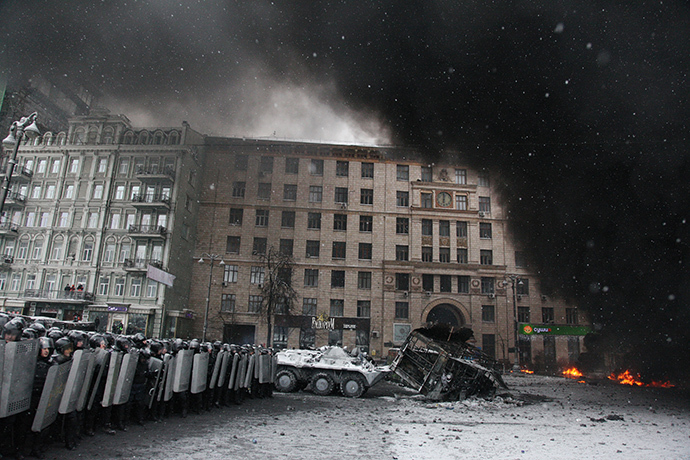 But it seemed that talks were not enough, as rioters rejected proposed agreements and turned peaceful protests into violent attacks. Violence has escalated to unprecedented levels. Many protesters and police officers were killed or injured after sustaining gunshot wounds.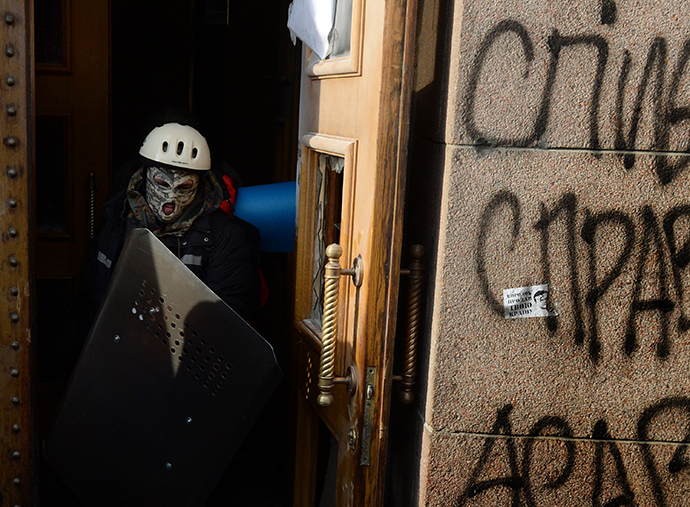 Thursday's clashes grew more violent by the minute, with more masked rioters firing rifles and pistols at police in central Kiev.
The rioters stormed and looted the nearby unprotected office of the ruling Party of Regions, setting it on fire. Another group of armed rioters seized a hotel, firing at police through its windows.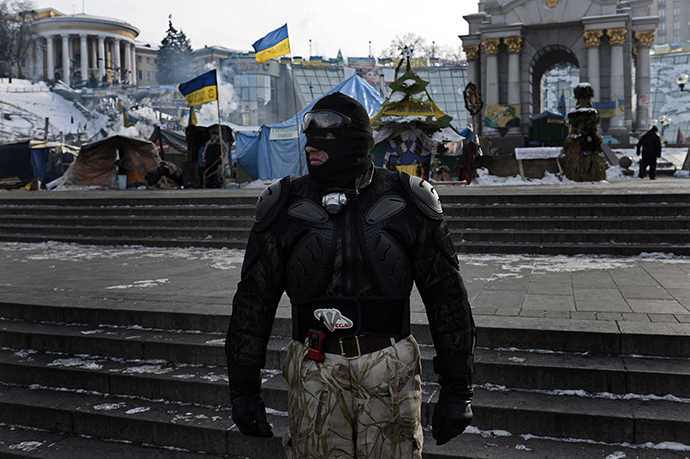 Radicals went on a rampage, seizing police stations in the Ukrainian capital and capturing an army unit. Rioters constructed barricades around the newly seized buildings.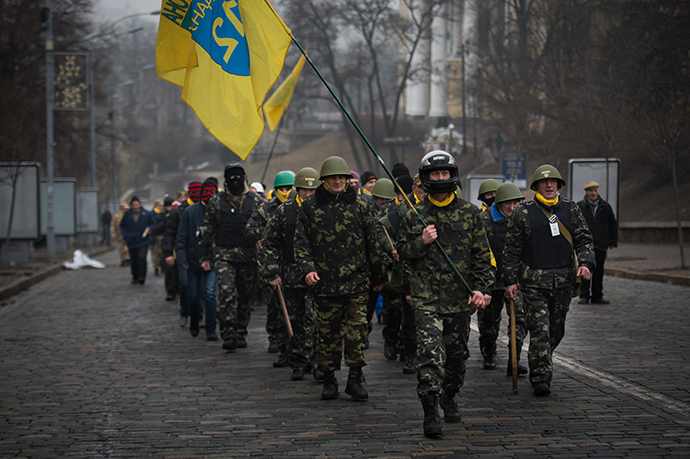 The words and guidance of opposition leaders were ignored as the death toll reached 77 people on February 20. Both security forces and rioters were reported stalking the streets with rifles.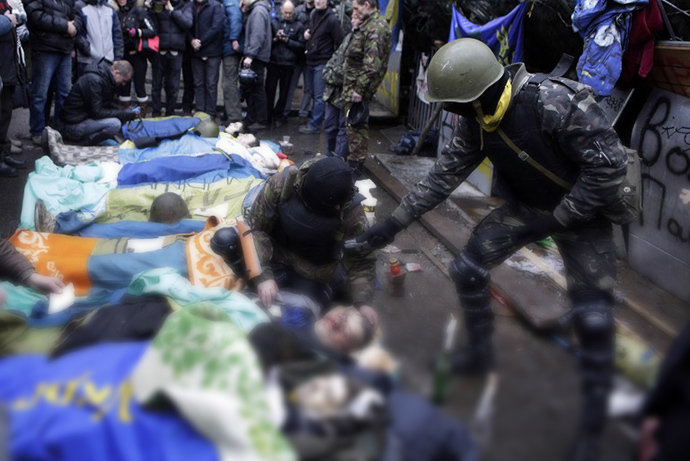 Even now, after an agreement was signed between Ukrainian President Viktor Yanukovich and opposition leaders, thousands of rioters are still protesting in central Kiev. Rioters are now in full control of Kiev's government district; they have taken over parliament, the president's administration quarters, the cabinet, and the Interior Ministry.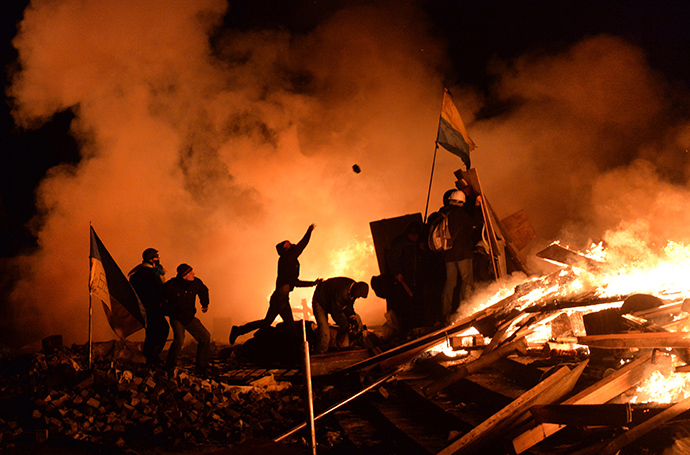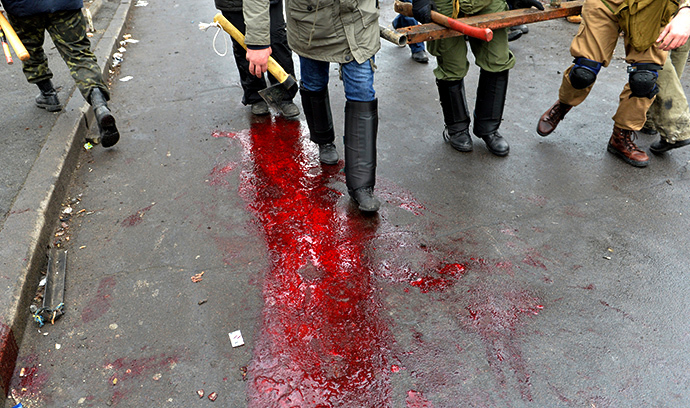 You can share this story on social media: