Ukraine's Donetsk calls for referendum, votes to restore Russian's official status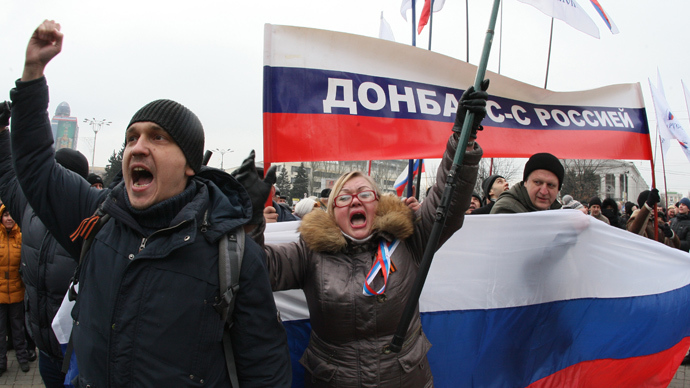 The City Council in the eastern city of Donetsk has refused to recognize Ukraine's self-imposed government and called for a referendum on the region's status. The council has made Russian alongside Ukrainian the official language in the region.
"Until all the legitimacy of the new laws approved by Verkhovna Rada [Ukrainian Parliament] is clarified, the City Council [of Donetsk] will take full responsibility for its territories," said the document approved by Donetsk City Council during the special session of March, 1. The report comes from Ukraine-based Zerkalo Nedeli newspaper.
Donetsk is the capital of the coal-rich Donbass region in eastern Ukraine. Beside Donetsk, a major economic, industrial and scientific center, Donbass includes Lughansk and Dnepropetrovsk regions.
The Council called for a referendum on Donbass's future, urging the local parliament to set the date immediately. The move is set to "protect the citizens from possible violent actions on the behalf of radicalized nationalistic forces," the council said in a statement.
In addition, the members of the city council have voted to set up self-defense squads.
Russian language has been re-introduced as an official language along with Ukrainian in the area where a plurality of its residents are ethnic Russians (48.15%) and Russian-speaking Ukrainians (46.65%). This decision came after the new power in Kiev abolished the minority languages law.
Also, the Donetsk authorities said they consider Russia a strategic partner.
The council's session was called as pro-Russian activists gathered in the center of Donetsk, demanding local authorities to hold a referendum on the future of the region. The protesters seized the regional administration building and hoisted the Russian flag above it.
Eastern Ukraine and Crimea are seeing massive pro-Russian demonstrations against the new self-proclaimed central government, with many government buildings being topped with Russian flags.
You can share this story on social media: