Ukraine cuts funding to feed army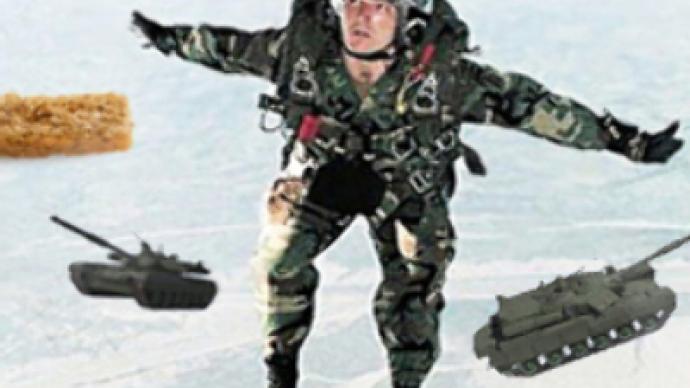 Facing an uneasy decision to choose between new weapons and keeping soldiers fed and clothed the head of Ukrainian Defence Ministry Yury Yekhanurov has chosen the latter.
Once again the defence minister had to make apologies to scientists and specialists working for the Ukrainian military-industrial complex. The military budget of Ukraine cannot afford to buy domestically produced weapons, says the press-service of the Ukrainian Ministry of Defence.
According to Yekhanurov, Ukraine's army is in no need for either food or military uniforms, but the question of the cost of the army's daily rations has risen to the top of the agenda. The decision to cut the financing of the military-industrial complex in favour of personnel's basic nourishment was made during negotiations between finance and defence ministers.
What makes this decision even more remarkable is the fact that Yekhanurov himself does understand the consequences of under-financing of the military industry and that "the government's defence order is the bread and butter of Ukrainian scientists involved in the military-industrial complex", which means that the Ukrainian government now simply cannot find the financial resources to support the army as well as pay for domestically produced weapons, despite originally being factored into the 2008 state budget.
This news comes against the background of a recent scandal over an illegal arms supply from Ukraine to Georgia. It came to light that Ukrainian president Viktor Yushchenko was supplying weapons to Georgia at a 20% discount – cheaper than to his own military. Some Ukrainian air-defence systems were dismantled and shipped to Georgia, thus endangering the national security of Ukraine.
Today it is a well-known fact that in August of this year during the Georgia – South Ossetia conflict these Ukrainian weapons were used to kill Russian peacekeepers and Ossetian civilians.
Furthermore, most of the receipts from arms trade have never made their way to the Ukrainian budget. The recently formed commission by Rada – the Ukrainian parliament – found no traces of the $US 1 billion worth of arms sales, yet over the last three years Ukraine has sold $US 2 billion worth of arms, mostly to Georgia, while only $US 840 million reached the state coffers.
Ukrainian defence expenses have increased fourteen-fold over the last four years, informs Ukrainian news and analytics website www.oligarh.net. In 2009-2011 the Ukrainian ministry of defence plans to spend $2.4 billion on re-arming and re-equipping the army.
You can share this story on social media: