Crimea invites OSCE mission to observe referendum on region's future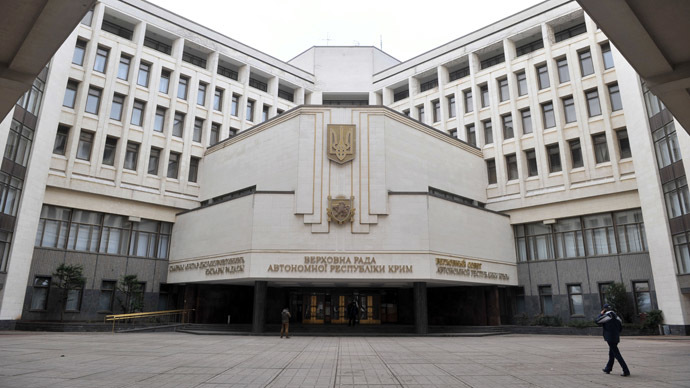 The parliament of the Autonomous Republic of Crimea has sent an official invitation to the Organization for Security and Cooperation in Europe (OSCE) to send a mission to observe the referendum on the region's future, slated for March 16.
The Supreme Council has handed over the invitation to Switzerland, the country that holds the rotating presidency of the OSCE. Crimean authorities invited observers from both individual OSCE member-countries and the Office for Democratic Institutions and Human Rights (ODIHR) to come to Crimea.
"I am confident that the parliament of Crimea will make it possible for them to be present at polling stations. This process is underway now and the referendum itself will be as transparent as possible," Crimean Prime Minister Sergey Aksyonov said, as quoted by Itar-Tass.
On Saturday, Crimean residents – about 60 percent of whom are ethnic Russians – will cast ballots to decide whether the region will "become part of the Russian Federation as its constituent territory."
They will also decide whether Crimea's 1992 constitution, under which the autonomous republic is part of Ukraine but has relations with Kiev defined on the basis of mutual agreements, should be restored.
Preparations for holding the referendum are in full swing.
Crimea will allocate up to US$2 million for printing ballots and providing technical support. A total of 1,550,000 ballots will be printed.
Some 1,500 Crimean troops will guard polling stations during the referendum, Prime Minister Aksyonov said.
"We will have about 1,500 armed troops by the time the referendum is held. They will be placed on duty at all polling stations," he said. "The referendum will be guarded by armed people, primarily the autonomy's self-defense units and Armed Forces."
While Crimean authorities prepare for holding the referendum, radical groups plan provocations on the republic's administrative border, according to unconfirmed reports from a Ukrainian Special Forces source, cited by RIA Novosti news agency.
"We are receiving information that Ukrainian radical groups are preparing provocations at the Crimean administrative boarder on the day of referendum, March, 16," the source told the news agency.
The referendum has been brought forward twice from its original date of May 30 since it was appointed by local lawmakers last month.
The US has said it will not recognize the results of any referendum about the autonomous republic's future, as Washington continues to consider Crimea a part of Ukraine, US Ambassador to Ukraine Geoffrey Pyatt stated.
Earlier, President Obama said that a referendum in Crimea would "violate the Ukrainian constitution and international law."
This stance has been echoed by British Prime Minister David Cameron and German Chancellor Angela Merkel, who also stated that "any attempt by Russia to legitimize the results could bring more consequences."
Speaking to Cameron and Merkel over the phone, Russian President Vladimir Putin expressed confidence that Crimea's upcoming referendum will reflect the legitimate interests of its people.
You can share this story on social media: