'Work for dole': UK's new welfare policy to set benefits payback system
Published time: 30 Sep, 2013 15:18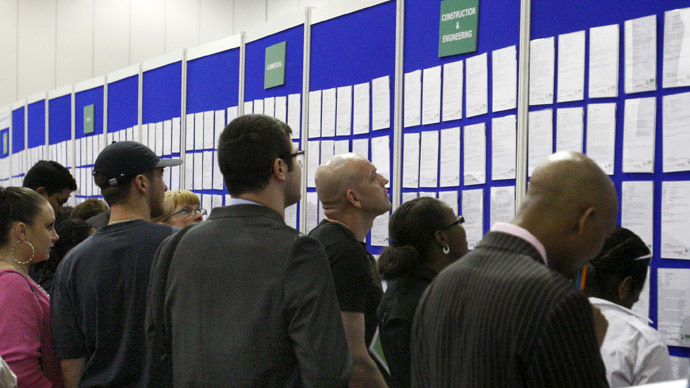 Unemployed people in Britain could soon be forced to work for their benefits, according to a new government welfare program announced by UK Finance Minister George Osborne on Monday.
The new "Help for Work" program will start functioning in April 2014, and will cost 300 million pounds annually, according to Osborne, the Chancellor of the Exchequer, who unveiled the plan to supporters at the Conservative Party conference in Manchester.
The program will see the country's 200,000 long-term unemployed benefit claimants having to fulfill tough conditions to avoid losing their allowance. They will have a choice of either attending a job center daily, or doing community work, or receiving intensive job training.

"For the first time, all long-term unemployed people who are capable of work will be required to do something in return for their benefits to help them find work," Osborne said. "No one will be ignored or left without help. But no one will get something for nothing. Because a fair welfare system is fair to those who need it and fair to those who pay for it too."

The program targets those receiving unemployment benefits for three years and presupposes fines for the ones refusing to participate. The first breach of the rules will incur the loss of four weeks' worth of benefit, the second one will strip the offender from three months' worth of allowance.
A polling conducted for the think tank Policy Exchange and cited by The Guardian suggests the majority of the public – 56 percent – supported the crackdown on welfare.

Osborne accused the opposition Labor Party of having aggravated the unemployment situation, saying that 5 million people were on out-of-work benefits when Labor left office in 2010.

The shadow Treasury Chief Secretary, Rachel Reeves, however believes the Tories' "policy is not as ambitious as Labour's compulsory jobs guarantee, which would ensure there is a paid job for every young person out of work for over 12 months and every adult unemployed for more than two years."
"With Labour's plans, we would work with employers to ensure there are jobs for young people and the long-term unemployed – which they would have to take up, or lose benefits. Under the Tory scheme, people would still be allowed to languish on the dole for years on end without having a proper job," Reeves said.
The UK has been going through its deepest recession since the 1930s, according to a report by the Institute for Fiscal Studies issued in June. The same research said workers experienced unprecedented pay cuts since the global credit crunch began in 2008. 
One of the indicators of economic crisis – the number of the long-term unemployed – has been high in the UK. According to statistics cited by The Wall Street Journal, 469,000 people had been unemployed for more than two years over the May to July period this year, which is up 27,000 from a year earlier.