UK 'borrowed' US drones to carry out unreported strikes in Afghanistan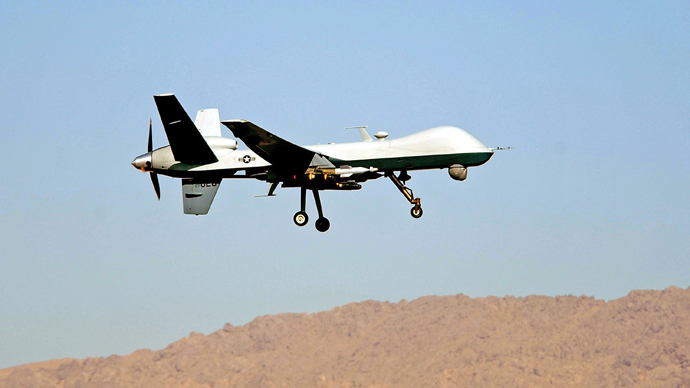 The UK has used American drones over 250 times to carry out previously unreported attacks in Afghanistan, the MoD has admitted. The reports prompted a sharp reaction from British rights groups who slammed the lack of transparency in the UK military.
In response to a freedom of information request by British rights group Drone Wars UK, the Ministry of Defense said it had launched 39 missile strikes from unmanned US craft in Afghanistan. This the first time the Ministry of Defense has admitted to the use of American craft in conflict zones to carry out strikes.
"Of the 2,150 missions flown by UK personnel, there were 271 missions in Afghanistan when UK personnel utilized a US Reaper, as a UK Reaper was unavailable. During these missions, UK personnel released 39 weapons. I am withholding information about weapons released by UK personnel embedded with the United States Air Force on operations in Afghanistan and Libya under Section 27 [of the Freedom of Information Act]," said a statement from the MoD.
@CliveSSmith UK using borrowed US drones in Afghanistan - not reported to parliament: http://t.co/EBFDJaMC8Y

— Drone Wars (@Drone_Wars_UK) February 9, 2014
It was revealed last year that members of the RAF embedded within the US forces had carried out 2,150 missions in Afghanistan, Libya and Iraq. However, the MoD did not divulge any specifics on the nature of the missions or the weapons that were used.
Prior to this, the MoD had stuck to statistics based on the amount of attacks carried out by British unmanned drones in Afghanistan, meaning that at least 10 percent of attacks carried out by British RAF pilots using American craft were not reported to parliament.
In response to the statement from the MoD, rights group Drone Wars UK said the lack of transparency was a testament to the "secrecy surrounding the use of armed drones."
"It is essential that information about drone operations – and in particular drone strikes – undertaken by British RAF pilots while embedded with US forces is made available for public scrutiny and debate rather than being withheld," said Chris Cole of Drone Wars UK, in a statement posted on the organization's site.
In addition, he said action must be taken to avoid the increasing use of "unaccountable military attacks" because they lead to "global instability and increased insecurity."
"The nature of this technology means that drones can simply and secretly be 'borrowed' between different operators, making public accountability when strikes take place very difficult if not impossible."
The UK had previously stated the amount of attacks carried out by British reaper drones in Afghanistan in 2012. As of November 1 of that year, 297 Hellfire precision missiles and 52 guided bombs had been employed by the UK since the beginning of the conflict in Afghanistan.
'Taranis'
In spite of the growing controversy surrounding the use of unmanned aircraft in conflict zones, the UK released the first footage of its new, fully-autonomous drone last Wednesday: Tiranis, named after the Celtic god of thunder, boasts "the most advanced air system conceived, designed and built in the UK and a "fully autonomous intelligent system."
Anti-drone activists have been up in arms over the new craft, voicing concerns that the vessels artificial intelligence system will not be able to distinguish between civilians and insurgents.
A group of activists led by such figures as Nobel Peace Prize-winner, Jody Williams, are urging for a law banning the use of autonomous drones in conflict areas to be discussed in Geneva.
You can share this story on social media: