UK teenager to stand trial for 'grossly offensive' Afghan war post on Facebook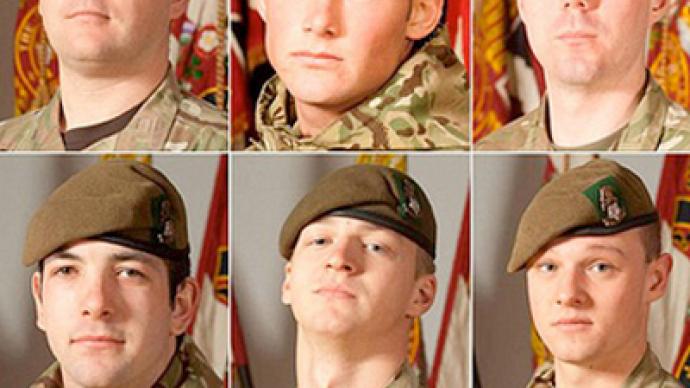 Ninetieen-year-old Azhar Ahmed will be tried later this year. The teenager pleaded not guilty and denied posting a comment on Facebook about six British soldiers killed in Afghanistan last week. He was released on bail until the next hearing in July.
Ahmed was arrested and charged with "racially aggravated public order offences" but prosecutors on Tuesday changed that to a charge under Section 127 of the Communications Act of "sending a grossly offensive message." The prosecutors also claim to have five witnesses, one of whom has already stated that they found Ahmed's message grossly offensive. They also intend to follow up a further three witnesses who they expect will give similar testimony.There was a large police presence outside the court for the hearing as around 50 far-right protesters staged a noisy demonstration when the defendant arrived and left, calling for "jail to those who insult our troops." In his Facebook comments Ahmed reportedly criticized the amount of attention the deaths of the six soldiers received as compared to the civilian losses Afghanistan has sustained in the NATO-led war. Media sources have been very tight-lipped about the actual wording of the message, but it is quoted in full in several blog posts, and some screenshots of the post are accessible via Google. A police spokesman said last week that the Yorkshire teenager was commenting on the level of attention British soldiers who died in a bomb blast last week received compared to Afghan civilians who have died in the war.The spokesman said: 'He didn't make his point very well and that is why he has landed himself in bother.'The six British troops were killed last week after their Warrior armored vehicle was struck by a roadside bomb in southern Afghanistan. Most of the soldiers were between 19 and 21 years of age. The incident is the biggest single loss of life for British forces since 2006.Ahmed's court appearance coincided with the repatriation of the soldiers' bodies, which were being flown to RAF Brize Norton in Oxfordshire later on Tuesday.
You can share this story on social media: