Lock, Stock and Laser? UK police go high-tech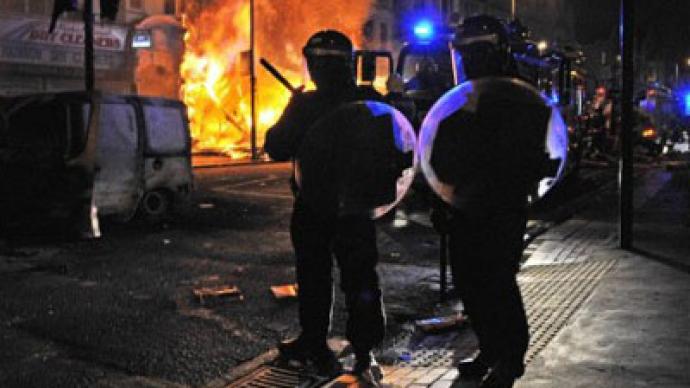 While Britain's increasingly militarized police forces have relied on tear-gas, batons, and rubber bullets to keep rioters at bay, a new 007-style laser weapon may soon repel rioters with a dazzling wall of light.
The laser, a shoulder-mounted device which is shaped like a rifle, will temporarily blind anyone who dares traverse its imposing 13 foot wall of light from up to 1,640 feet away.  The £25,000 non-lethal weapon, known as the SMU 100, was designed by a former Marine commando.    Paul Kerr, of Photonic Security Systems, the UK-based firm which developed the laser, said the effect was like looking into a low sun on a bright winter day. He added: "It is horrible. It makes you look away," the Daily Mail reports.  The laser was originally designed to protect sensitive cargo from pirates on the high seas.  Likewise, NATO-led troops have already deployed similar weapons to counter insurgents in Afghanistan.However, a device used to neutralize armed combatants might soon fall into the hands of UK riot police who are stepping up efforts to clamp down on domestic unrest after riots gripped the country this past August.     According to the Home Office, traditional methods of crowd control, including tear gas and Tasers, leave a "capability gap" because of their short range, and the use of lasers "has merit," MaritimeSecurity.Asia reports. Apart from the SMU 100, the British government is also considering the use of long-range pepper-spray projectiles and wireless, electronic stun guns.    But while rioters are the proposed target for the ever-expanding police arsenal, peaceful protesters also find themselves being treated like enemy combatants by the Home Office.  This past August, the London Metropolitan Police Service (MPS) authorized the firing of rubber bullets against student demonstrators for the first time on the British mainland. And earlier this month, the City of London police angered Occupy London activists by conflating protesters opposed to corporate greed and economic inequality with notorious terrorist groups like al-Qaeda.It was reported last year that UK police soon hope to implement unmanned spy drones to monitor protesters and anyone else exhibiting antisocial behavior.  The newest expansion of covert state surveillance is set to be implemented in time for the 2012 Olympics.Although a Home Office Spokesman at its Center for Applied Science and Technology says the laser will not be used until it is proven that there are no long-term health effects, there are already plans to have it tested by at least one police force.  As the SMU 100 is still in its final stages of development, no independent tests have been completed to determine any potential long-term damage to health.    More worryingly, perhaps, is that the line regarding acceptable uses of police force to counter domestic disturbance is continually being redrawn.   And as the UK economic forecast looks ever bleaker for 2012, those at odds with government policy may increasingly find their voices silenced by the ever-expanding police arsenal.
You can share this story on social media: