UK navy cadets explore Russia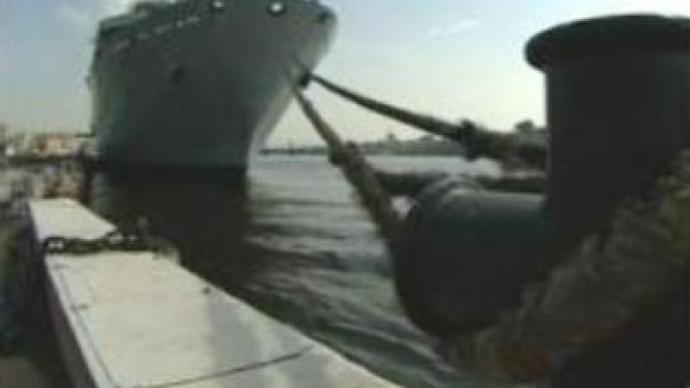 One of the biggest vessels in the UK Navy, HMS Albion has moored in St Petersburg in course of defence diplomacy. Navy cadets plan a lot of sightseeing while the residents of the city have an opportunity to explore the ship.
HMS Albion is one of the largest ships in the British Royal Navy. The ship is 176 meters long and has a crew of 400. Its main task is to deliver marine forces along coastlines in military operations. Among the 400 member crew there are 62 women, something the Russian navy still lacks. The women here are proud to be part of the team. One of them, Lieutenant of British Royal Navy, Reagan Goodenough believes that this job could be fantastic career for woman.
"For me it's a fantastic job. We're given the same opportunities the same opportunities as all the men,"
she said. In the meantime, for three days HMS Albion will open its doors to the public.
"Our hope is that by opening to visitors, by showing Russian military personnel and Russian politicians around our ship that we can act in the spirit of openness, transparency, showing one another that we intend one another no harm and we can work together in the future,"
Garry Newton, UK Naval Attaché said.Meanwhile, the crew plans to do some sightseeing. Nearly all crew has volunteered to visit the famous Piskarev cemetery, which was a burial place of thousands who died in the siege of Leningrad during the World War Two.Both Britain and Russia have a glorious naval history. Russians remember the British convoys that helped deliver aid Russia fighting Nazi Germany.The British – Russian fleet have been operating together for some years. This year they plan to hold a number of events. And it seems the military contacts have not been tarnished by the latest political problems the two countries are going through.
"What ever you may read or write about the difficulties in other areas of our relations Anglo-Russian relations on a naval level with St.Petersburg remain very strong and healthy, "
British Ambassador to Russia, Anthony Brenton stressed.
You can share this story on social media: