UK pulls out of Iraq amid public discontent over Libyan mission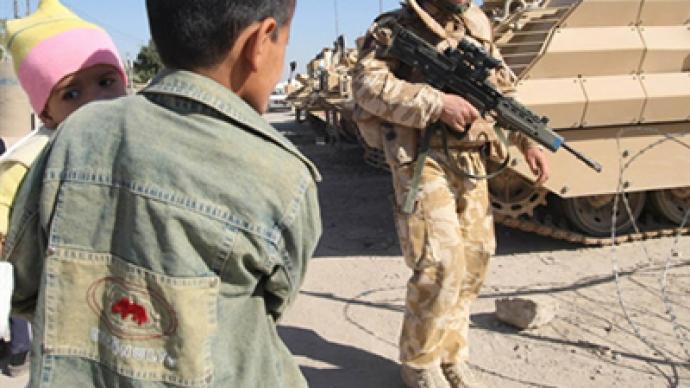 The British military operation in Iraq is finally ending after more than eight years. The last group of royal navy training staff is pulling out on May 22.
The UK joined the US invasion of Iraq in 2003, under the pretext of destroying Saddam Hussein's weapons of mass destruction. But when it turned out he never had any, the war fell out of favor with the British people.Most of the UK's military forces withdrew two years ago, after losing 179 of its personnel in the war. RT contributor Ekaterina Zatuliveter says the British campaign in Iraq leaves a bitter legacy."Why now, why so suddenly – with only four days notice prior to the withdrawal? The answer is simple: the growing dissatisfaction of British people with the British involvement in Libya. The British government felt it needed to do something very quickly, so it ticked off one of the boxes – Iraq," Zatuliveter told RT. Still, it seems that the long presence of the British troops in Iraq has brought nothing but grief to the country."Constant violence, unstable government, poverty and unemployment. People suffer from various diseases caused by the use of depleted uranium in the bombings," stated Zatuliveter.The UK has also decided to decrease its mission in Afghanistan by 400 soldiers. They will be withdrawn throughout the course of the year up to February 2012. But the UK's enduring force level there is to remain at 9,500.
British anti-war activist John Rees believes while Iraq is still profoundly unstable and it still takes tens of thousands of the US troops to hold the puppet government in place, the UK has political grounds for withdrawal. "I think you have to take this final withdrawal of troops from Iraq with the intended policy of retreating from Afghanistan by the time of the next elections," he says. "I think David Cameron has absolutely no stomach for going into the next election with British troops fighting unpopular wars. It didn't do his two predecessors any good, I think he rightly calculates it won't do him any good and therefore I think that you are beginning to see the unraveling of British foreign policy in its alliance with the US over the Afghan and Iraq conflicts." Rees added that one of the worst political crimes one can commit is taking their country to war on the basis of lies."To send those 179 people to their deaths on a lie is a gross crime, which should be treated in the same way that we would treat any other head of state or any other group of government officials who lost the lives of their own citizens when there was no truth in the story that we were told about why they should go to war in the first place," Rees says.
John Sloboda, a co-founder of the Iraq Body Count research project, believes that Britain's real influence on the conflict in Iraq ended back in 2007 when it withdrew its combat troops. What the country now has to do is reflect very carefully on its involvement in this war and learn the lessons for the future, but also come to terms fully with what actually has happened in the past."The commentators of whatever political persuasion, whether for or against this conflict, are united in their ignorance and even casual treatment of the Iraqi cost of this," Sloboda told RT."It's clear that Britain considers itself a major player in the world, and this means putting its troops and forces around the world. We very much hope that in conflicts it is currently engaged in, such as Afghanistan and Libya, it pays more attention to the civilian casualties which it claims – particularly in Libya – it is trying to avoid than it's so far shown itself willing to do."
You can share this story on social media: