​44 HD films a second: Team in UK manages fastest ever 'real world' internet speeds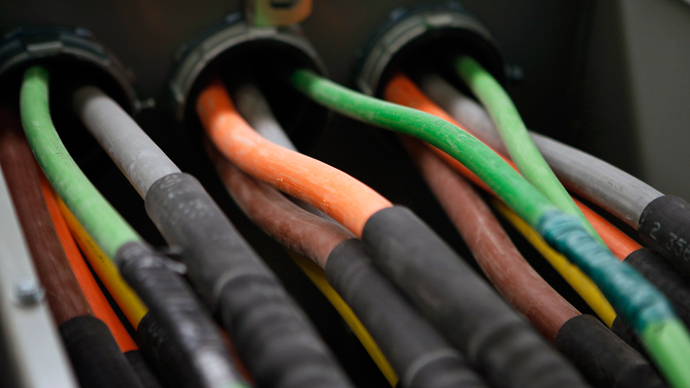 Remember a time when 256Kbps offered a broadband revolution in permanent connectivity? Those days truly belong to the digital dinosaurs, as UK scientists have created the fastest ever real-world internet connection, clocking in at 1.4 terabits per second.
A terabit is 1000 gigabits or 125,000 megabytes, and if the speeds registered by the joint research team from French telecoms company Alcatel-Lucent and London-based BT prove commercially viable, a user would be able to download as many as 44 high definition films in one second.
The team employed a protocol dubbed Flexigrid, which allows for the overlaying of multiple transmission channels over the same connection. The resulting 'Alien Super Channel' sees seven 200 gigabit-per-second channels running in parallel, boosting transmission efficiency by 42.5 percent over previous attempts.
Speaking with BBC News, Kevin Drury, optical marketing leader at Alcatel-Lucent, likened the new development to reducing the spaces between lanes on a busy highway, enabling more lanes of traffic to share the same space.
Dr. Tim Whitley, BT's MD of research and innovation, told CNET UK the trials were part of BT's "long history of being on the cutting edge in telecommunications innovations."
"These trials continue that tradition, as we work with Alcatel-Lucent to push the boundaries of fiber technology, allowing us to support the ever-increasing bandwidth required by our customers, and deliver new and exciting services which rely on fast, data-hungry applications," he said.
Although faster internet speeds have been measured in labs, this is the first time such a blisteringly fast connection has been obtained under "real world conditions."
What's particularly exciting about the Flexigrid protocol is that it does not necessitate infrastructure changes, and could in theory run on currently existing fiber whose utility is not being maximized.
At present, the a average peace speed for the UK hovers around 36.3 megabits per second, almost double the global average, and just a hair behind the US.
The semi-autonomous city-state Hong Kong, meanwhile, is the global internet hot spot, registering average high speeds of 63.6 megabits per second; treble the global average and over 22,000 times slower than that achieved in the Flexigrid tests.
Of course, other technology is in the works to supercharge the flow of web traffic. Google Fiber, which has been rolled out in select locations in the US over the past several years, offers subscribers a one-Gigabit-per-second (Gbps) internet option.
In South Korea, mobile operator SK Telecom Co announced plans this week to introduce a 300-megabit-per-second option, leaving Western 4G services in the dust.
On the experimental end of wizardly Wi-Fi connections, in October a German team of scientists pulled off a 100 Gbps connection. Even Wi-Fi speed that swift could soon become the internet's version of the horse and buggy.
Swen Konig, one of the researchers on the project, told Gizmodo that with a few tweaks, Wi-Fi could catch up with recent fiber optic feats in no time.
"By employing optical and electrical multiplexing techniques, i.e., by simultaneously transmitting multiple data streams, and by using multiple transmitting and receiving antennas, the data rate could be multiplied," said Konig.
"Hence, radio systems having a data rate of 1 terabit per second appear to be feasible."
You can share this story on social media: