Immigration crackdown: Random raids on illegals incite UK uproar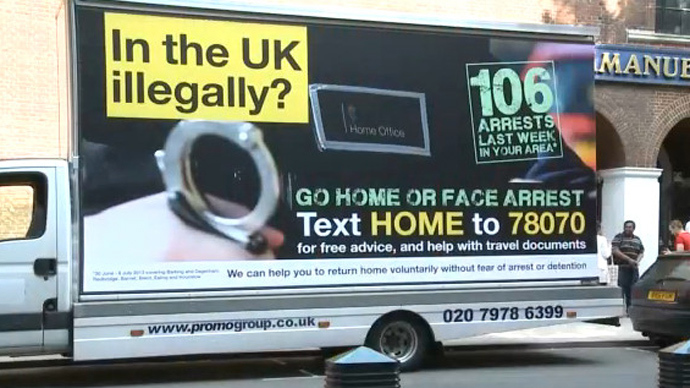 Harsh criticism has been leveled at the UK government for nationwide spot raids to weed out suspected illegal immigrants. The arrests come in the wake of the "go home or face arrest" campaign that has been slammed as "racist and intimidatory" by critics.
The Home Office announced on their Twitter on Thursday that countrywide spot raids had taken 139 "suspected" illegal immigrants into custody, sparking a flurry of furious criticism.
@ukhomeoffice stop wasting my money persecuting innocent people #UKBA#noborders

— Bethemedia (@Bethemediauk) August 1, 2013

"Today's operations highlight the routine work we are carrying out every day to stamp out illegal working. We are sending a clear message to employers who choose to use illegal labor – we will find you and you will pay a heavy penalty," said Immigration Minister Mark Harper. The Home Office website says that employers who contract illegal immigrants could be fined up to £10,000 ($15,000) by the government.

Onlookers who witnessed some of the detentions in London told UK newspaper The Independent that officers arrested only non-white individuals.

Twitter commentators blasted the Home Office, likening their tactics to those used in Nazi Germany against the Jews and decrying the measures as "disgraceful and racist." Many Twitter users also called for the government to account for itself and what would happen to the "suspects," angered that they had already been condemned by the Home Office as "offenders."
A suspected visa overstayer arrested at Swansea nail bar – 94 suspected #immigrationoffenders arrested across UK pic.twitter.com/aoBAXAHVJB

— The Home Office (@ukhomeoffice) August 1, 2013

Comparisons were also drawn with the Home Offices recent "go home or face arrest" campaign where vans bearing billboards emblazoned with the slogan were deployed in London boroughs.

The UK government has called the initiative "an alternative to arrest" and wants illegal immigrants to turn themselves over for deportation.  Moreover, the Home Office has dismissed claims that the raids are linked to their billboard campaign.  

The billboard vans have also been a hot topic on Twitter, storming the social media site under the hashtag "racistvan."

RT @matthew1butcher: Stop the anti-immigrant van! Tweet #racistvan if you spot it and maybe we can track it down! pic.twitter.com/XTLzstHcpF

— natalieben (@natalieben) July 23, 2013
The measure was initially intended to be implemented in London as a trial initiative, but the government has already voiced plans to deploy the vans in other UK cities. Number 10 hailed the billboards as a success on Monday although no figures have yet been released detailing the number of illegal immigrants who have responded to the posters.

"This pilot that is currently running is about targeting [illegal immigrants] and it is working," a spokesperson for UK PM David Cameron stated on Monday.

The British government is instating a number of measures to curb illegal immigration this year.

They will include a $4,600 bond which selected visitors from certain countries will be required to pay upon applying for a British visa. The bond will be returned to visitors from India, Bangladesh, Sri Lanka, Pakistan, Nigeria and Ghana when they leave the country. The measures are due to come into effect in November.