UK graduates mired in low-level jobs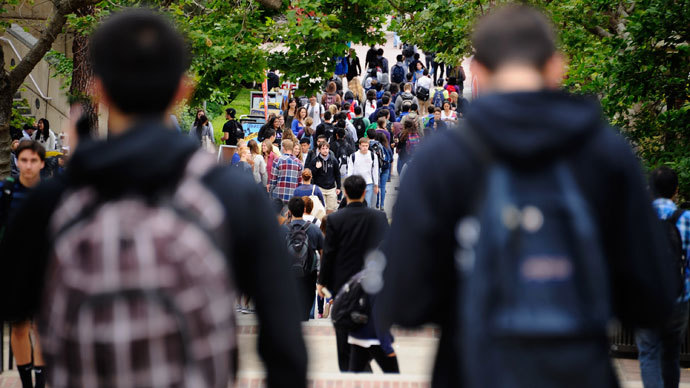 While there has been a 'steady increase' in the number of graduates in the UK population since 1992, nearly half of recent UK graduates are stuck in low-skill jobs, according to new research from the Office of National Statistics (ONS).
47 percent of recent graduates were in non-graduate jobs between April and June this year. A decade ago, similar data showed that a mere 36 percent of graduates held lower-skill jobs, and even in 2008, only 39 percent of recent graduates were in undergraduate jobs, according to the ONS.

The statistics are stoking fears the country is seeing a 'massive waste' of talent, while education is simultaneously becoming increasingly expensive for the young.

"The pre-recession rates of underemployment of graduate skills in the UK economy were already disappointing - the post-recession rates represent an alarming jump in under-employment and a massive waste of investment in skills," Dr John Philpott, director of The Jobs Economist in a widely-distributed statement.
"Despite signs of a wider jobs recovery, the pick-up in the graduate jobs market has been less pronounced," Andrew Hunter, co-founder of jobs website Adzuna told Reuters. "In the face of fierce competition, many grads are being forced to take on lower-skilled jobs," he said
Students are being weighed down with ever-increasing debts that compound their lack of professional progress. After 2012 an increase in the tuition fee cap hit 9,000 pounds ($14,400) per year, with the majority of UK universities charging the maximum.

This meant that 2011/2012 graduates had a 60 percent higher student loan debt than 2007/2008 graduates.
The report also found that among employed graduates, a wage divide remained and that male graduates were earning more than female graduates in 2013. "On average, a male graduate earned three pounds ($4.80) more an hour than a female graduate," according to an infographic measuring salaries between April and June 2013.

The figures did signify an increase in employment with nine out of 10 graduates in work, in comparison to those who left school after national standardized tests taken at the age of 17/18 - where 83 percent were employed.

However, while Britain's rate of unemployment is technically at its lowest in over three years, it appears that the workers are not being absorbed into professional career paths. Unemployment among recent graduates was measured at nine percent in the second quarter of this year – rising from five percent over the same period in 2008.
Steve Radley, director of policy at manufacturers' organization EEF stated that UK youth needed to be lured into the science and engineering sectors. He said the figures "highlight the major impact that subject choices have on earnings. Graduates in engineering are the second highest earners and those in physical sciences earn far beyond average," adding that in the science and engineering sectors graduates could help drive the economy forwards.

Those with medical and engineering qualifications were found to be earning the best salaries, while those who graduated with arts and humanities degrees had the biggest problems in securing employment and were the most badly paid.

You can share this story on social media: