Berlin rebukes 'greedy Brits' in battle for Europe's future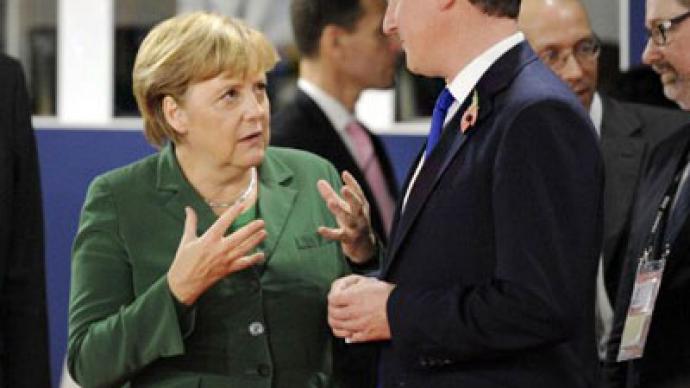 With Berlin jockeying to take the reins of the EU, a top German official says Europe is 'speaking German'. But as Angela Merkel eyes a political union to rope in euro stragglers, the UK is challenging this drive in "the toughest hour since WWII."
With many in the 27-nation bloc already resenting Germany's growing EU dominance, comments by a senior member of Chancellor Angela Merkel's center-right Christian Democrats Union Party (CDU) sent shockwaves through the British Isles.  In a statement seemingly aimed at testing the grit of the Brits' traditionally stiff up lip, Volker Kauder boldly proclaimed: "Suddenly Europe is speaking German. Not as a language, but in its acceptance of the instruments for which Angela Merkel has fought so hard."Speaking at the annual party conference in Leipzig on Monday, the influential conservative parliamentary group leader also had choice words for the inward-looking UK. "Just looking for their own advantage and not being prepared to contribute – that cannot be the message we accept from the British," Kauder said Tuesday, as cited by the German daily Spiegel.  However, exalting the virtues of following Germany's diktats was perhaps ill-timed, considering that a quarter of British Prime Minister David Cameron's ruling conservative party currently back a referendum on continued British EU membership.  And for eurosceptics who have long accused Germany of refusing to prop up their own currency, Kauder's comments were a bridge too far.  "British people will be horrified by what is going on in Europe,' said Philip Hollobone, a eurosceptic Tory MP. "Foreign policy going back to the time of Henry VIII has been to try to prevent conglomeration of power on the continent of Europe which would be against British national interests", he said, as cited by the Daily Mail.   He went on to counter that as Germany attempted to create a single economic and political bloc, it was Britain's golden chance to free itself from the "European quagmire."And as Merkel views Europe's "toughest hour since World War Two" as an opportunity "to bring about, step by step, a political union," Cameron has made it abundantly clear he is seeking to wrest power away from Brussels.  In the run up to a December 9 summit that will see discussions on an overhaul of the European Union's guiding treaty to save the sinking euro, the war of words is expected to intensify as the current eurozone crisis exposes the fault lines underlying project Europe.  And with Cameron set to meet Merkel in Berlin on November 18, the battle lines have clearly been drawn as the two countries continue to fight over the direction of power in the European Union.