UK: Ex-FSB officer's alleged poisoning is under investigation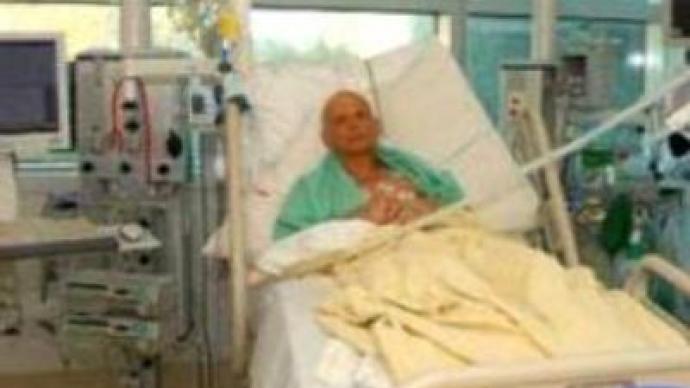 UK Police have been investigating the alleged poisoning of the ex-officer of Federal Security Service of Russia Alexander Litvinenko insisting to be poisoned because he got hold of important documents. FSB denies any involvement.
The London hospital where Mr. Litvinenko is being treated for suspected poisoning says he's been transferred to the intensive care unit. On November 1 Mr. Litvinenko had a number of meetings, including dinner with an Italian informant who's alleged to have passed him documents about the murdered Russian journalist Anna Politkovskaya.Mr. Litvinenko was taken to hospital two weeks later.John Henry, a clinical toxicologist at the London hospital where Mr. Litvinenko is being treated, says there's "no doubt" that he was poisoned. Mr. Henry says that thallium, which was allegedly discovered in his body, is a strong poison and that the dosage found in Litvinenko's blood could be four times stronger than what's necessary to cause death. It's a delayed reaction substance which can take weeks to take effect.The British police have issued a statement confirming that they are investigating allegations of poisoning. British intelligence officials say that no immediate conclusions should be drawn from Litvinenko's illness, but are not ruling out the possibility that a criminal or illegal organization could be behind the incident.Friends of Alexander Litvinenko are accusing Russian authorities of trying to kill him. Kremlin officials call accusations against it regarding Mr. Litvinenko as nonsense.
"We don't think there is a need to comment these allegations against Kremlin. It is nothing but nonsense. We can not comment about the incident itself, but regarding allegations – it is pure nonsense,"
Dmitry Peskov, Russian presidential spokesman, told Russia Today.The Russian Federal Security Service also denies any involvement.A spokesman for the Russian Embassy in London earlier described the illness of Mr. Litvinenko as "an accident", and urged to wait for the outcome of a police investigation.Some experts say there's would be no need to kill someone who had already received secret information and had time to pass it on.
Extravagant claims
Alexander Litvinenko became known in 1998, when he accused the Russian authorities of ordering the murder of politically influential oligarch Boris Berezovsky.At the time, the former Federal security service officer was being investigated for beating convicts and possessing illegal weapons. Since then, Mr. Litvinenko has become known for his extravagant claims.In 2001, the year he left to seek asylum in the UK, ex-FSB officer published a book entitled "The FSB blows up Russia" in which he claimed the security forces were behind the apartment's blowing up in Moscow and city of Volgodonsk in the south of Russia in 1999, that killed more than 300 people.Alexander Litvinenko made the headlines claiming Al-Qaeda's second most powerful leader Aiman Al-Zawahiri is an FSB agent.He also says the FSB had a hand in the scandal over the prophet Mohammad cartoons in Denmark.In 2004 Litvinenko claimed to be a victim of an arson attack on his house.The same year he alleged the FSB had a role in the still unexplained Ivan Rybkin case. The then presidential candidate was reported missing by his wife for several days. Media in and outside Russia reported that it could be connected with a drinking problem. British "Independent" newspaper says none of Mr. Litvinenko's accusations have been proven.
You can share this story on social media: