Brit brother: Drones to watch over UK streets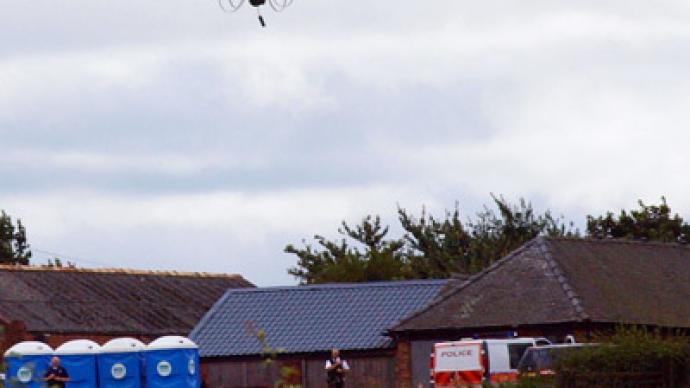 Unmanned police drones, comparable to those used in war zones such as Afghanistan, could soon be secretly watching over the streets of UK cities, according to a National Police Air Service director.
The unmanned aerial vehicles (UAVs) are being considered to monitor crowded events in Britain, such as concerts and festivals, as soon as the aerial units become cost-effective. "I see unmanned systems as part of the future. There is an aircraft over London all the time — every day, giving images back. Why does it need to be a very expensive helicopter? If somebody gave me an unmanned system that I could use as I use a helicopter at half the cost, within the regulations, I would buy it tomorrow."  Superintendent Richard Watson said in a presentation to the defense industry, reports The Times.Some police precincts have tried using the remote-controlled system to curb crime. Now the idea is to implement the drone policy nationwide. Watson said that one manufacturer had proposed an 81-million-pound (around US$127 million) system in a deal that far exceeds the annual National Police Air Service budget of a little over 60 million pounds ($95 million), reports The Telegraph. The UK already has a drone manufacturing industry and infrastructure. In August 2005, a contract was awarded to Thales UK, worth around 700 million pounds ($1.1 billion), to create the Watchkeeper Unmanned Aerial Vehicle Program, to support the UK's war effort in Afghanistan, reports Defense Industry Daily. The program was also designed to create around 2000 high-quality manufacturing jobs in the country. Ultramodern drones will also be deployed for the first time in Northern Ireland on Friday in a missing person search, reports the Belfast Telegraph. Earlier this month, The Mail reported that UAVs will be used to scoop out terrorists, smugglers and illegal immigrants along Britain's shores as part of the EU wide project.The European Commission has allocated 260 million pounds ($412 million) for the "Eurosur" project, which also includes a surveillance plan to patrol the Mediterranean coast. Simultaneously, several schemes are underway in UK, aiming to develop civilian roles for systems based on the drones used to locate and destroy militants in Afghanistan and Pakistan. British defense companies are testing the high-tech military-grade cameras on UAVs over the Irish Sea. At the same time, The Mail has discovered that Kent Police are involved in a 3-million-pound ($5 millions) venture with partners in the UK, France and the Netherlands to study the use of drones to guard the English Channel.
You can share this story on social media: