Deluge dilemma: UK lacks flood funds to protect both town & country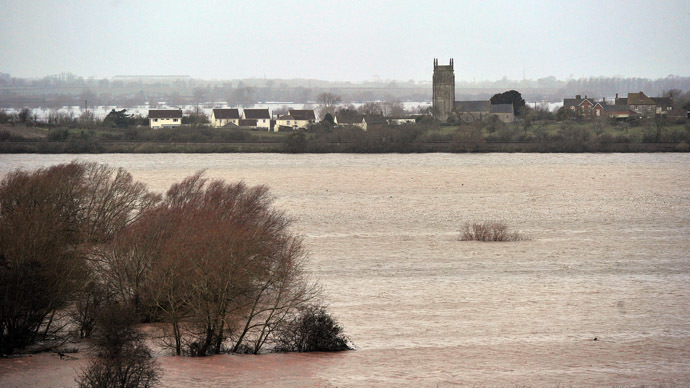 The UK will be forced to choose between towns or the countryside in the struggle to protect against the worst floods in over 50 years. The Environmental Agency has warned the funds simply do not exist to safeguard against the rising floodwaters.
Following a week of floods that have left large swathes of the UK underwater, the chairman of the Environmental Agency has said Britain faces difficult choices on which areas it wants to defend.

"There's no bottomless purse of money, and we need to make difficult but sensible choices about where and what we try to protect," Lord Smith of Finsbury told the Telegraph on Sunday.

As a result, the chairman said the authorities will have to prioritize on which areas they protect from the rising waters, as the government does not have the money to safeguard both urban and rural areas.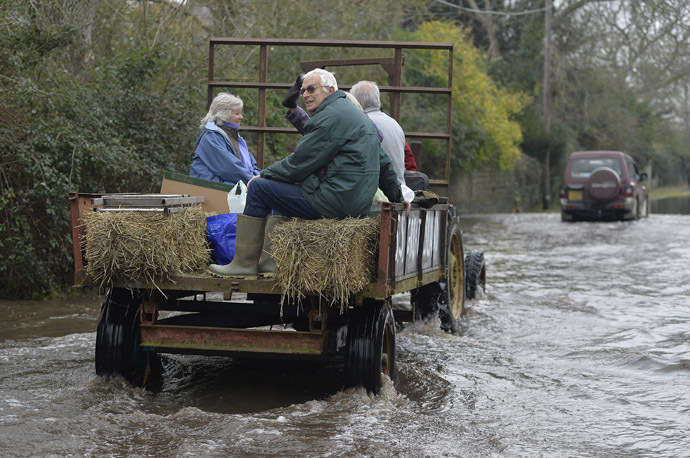 Addressing allegations that the government has dealt poorly with the crisis situation, the chairman likened the freak weather to the floods of 1953 which resulted in the death of over 300 people. There is no "quick fix" for the situation, he said.

The agency estimates that this weekend's storms left a further 180 homes in Southwest England underwater, adding to the 1,700 homes that have been affected by flooding in December and January. Winds of over 70mph (113kph) coupled with high tides buffeted the south coast this weekend, prompting the Environmental Agency to issue over 350 flood alerts.

Moreover, the authorities have urged British citizens to brace for more flooding as torrential rains are forecast to continue well into February.

"Strong winds and high waves could cause flooding along the whole of the south coast on Tuesday and into Wednesday," said the agency in a statement.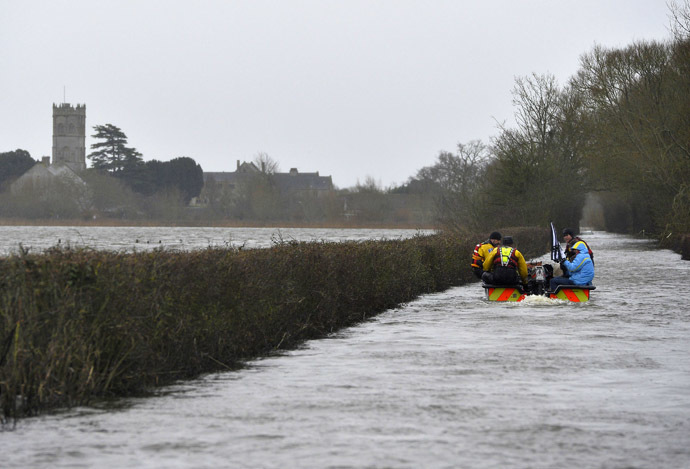 'Lynch mob'
The conservative government has come under fire for its treatment of the floods, with local MPs accusing David Cameron's government of not acting soon enough.

The critics prompted Cameron to intervene personally, overruling the Environmental Agency to send troops into the county of Somerset to aid in delivering food, transporting people and distributing sandbags. The PM admitted the situation was "unacceptable" and said that dredging would begin as soon as the area was safe.

"We are urgently exploring what further help the government can give local residents to move around and I rule nothing out in the days ahead to get this problem sorted," the PM said in a statement last week.

Meanwhile, Tory minister Ken Clarke likened the criticism to a "lynch mob" that had been taken out of context by media hysteria.
"This is the winter. It is wet. It has rained. It may be made worse by climate change," said Clarke to the BBC.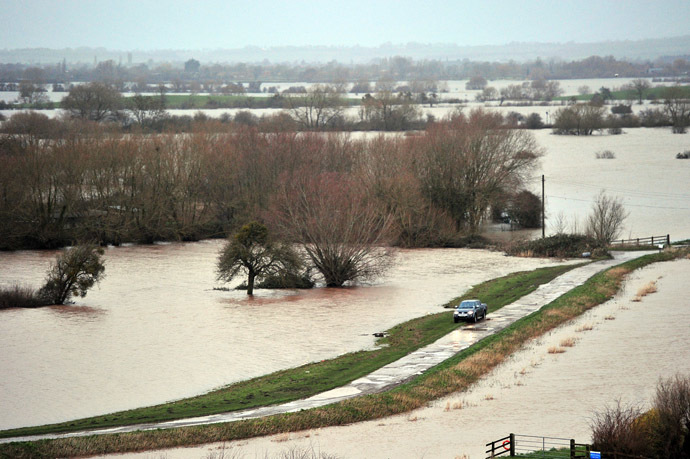 You can share this story on social media: