UK and Russia condemn Berezovsky's coup claims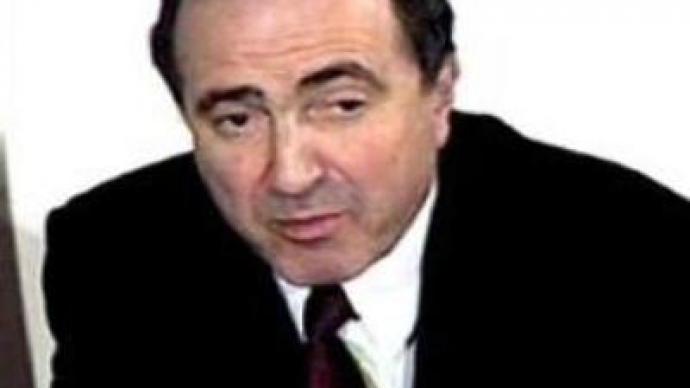 Both Russian and British politicians have reacted with sharp criticism to Boris Berezovsky's claims he is plotting a new Russian revolution. Russia is demanding his extradition from Britain.
The British Foreign Secretary Margaret Beckett has condemned remarks by exiled Russian tycoon Boris Berezovsky in the Guardian newspaper, urging the forceful overthrow of the Russian government. This comes as the Russian General Prosecutor's office is to send a request to London on Monday demanding Berezovsky's extradition. The Globus newspaper has published a report suggesting Berezovsky is considering a move to Brazil, should his political asylum in the UK be revoked.However, the British Government has not said it will withdraw asylum from him. Mr Berezovsky who has been living in Great Britain since having been granted political asylum told the Guardian newspaper the current regime in Russia cannot be changed democratically. He claims he is bankrolling members of Russia's political elite in order to overthrow President Putin, using force. The interview was accompanied by a photo of the tycoon in exile looking like a James Bond villain. The Russian authorities have opened a criminal case against Boris Berezovsky on charges of plotting a coup. The government views his recent comments as a criminal offence. Russia has repeatedly called for his extradition since the United Kingdom granted him asylum in 2003. The Russian Foreign Minister, Sergey Lavrov, believes the move should make British authorities re-consider their attitude to the exiled billionaire.
"We have been asking Britain for a long time to stop Boris Berezovsky from abusing his status as a political refugee and from doing things that, according to British legislation, should qualify him for extradition. So I think the question should be addressed to British authorities. They know very well what this man is doing,"
the minister commented. But the British government has not said it will withdraw asylum from the oligarch.
"The British government, I think, will be deeply embarrassed,"
Michael Binyon, leader writer of "The Times", believes,
"I am not sure whether actually what he said can be used in evidence to be the basis for a new extradition request. And I am not sure, the Court will agree. Mr Berezovsky has lawyers who can advise him on that, and in fact he has issued the clarification of this statement, making it clear it does not advocate violence because that, he knows, is against the law"
. Meanwhile, the investigation into the death of Alexander Litvinenko, a former FSB officer, poisoned in London last year, is still underway. Some analysts suspect Berezovsky's interview with the Guardian can be closely related to the Litvinenko case.
"The murder of Litvinenko inevitably brought Berezovsky back into the headlines because they were friends and worked together,"
Stephen Dalziel, BBC Russian affairs analyst, commented,
"I think, having been put in the headlines is his way of trying to get back at the Russian authorities, his way of saying "I can still say what I like, I can still speak out, I an in Britain, you cannot touch me"!
As for Russian politicians, Berezovsky's statement has caused a strong reaction among them.
"We are fed up with these coups. As a result of these coups, they have stolen half of the country. They have filled their pockets and transferred capital abroad. Now they seem to have run out of money so they want another coup,"
Gennady Zyuganov, leader of Russia's Communist Party, announced. This is not the first time Berezovsky has called for an overthrow of the Government, but the timing of this interview is suggestive. It comes on the eve of a major opposition rally in Moscow that is also expected to voice concerns about the state of democracy in Russia. But some of the rally's participants are also critical about Berezovsky's statements.
"On Saturday, Moscow will be boiling with rallies and demonstrations organised by pro-Kremlin and opposition parties. Berezovsky is just trying to add fuel to the fire and provoke clashes with the police,"
Vladimir Ryzhkov, State Duma deputy, said. Berezovsky left Russia in 2001 soon after Vladimir Putin became President. In the 1990s Berezovsky was considered one of the most influential people in Russia. His fortune helped him earn political connections, which, in turn, aided the expansion of his businesses. He was once as powerful as a Court's Chancellor. In Russia, Berezovsky is charged with fraud and corruption, but he claims all his troubles stem from his criticism of President Putin, a man he accuses of stifling democracy. However, his movements have always been well calculated, and some think he is now trying to provoke the Kremlin to do the exact same thing he accuses it of, that is to use force against the opposition.
You can share this story on social media: