2013 ushered in with tragic accidents and killings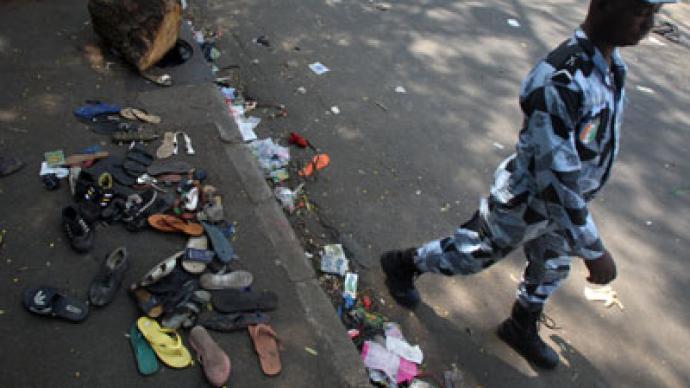 As celebrations for 2013 got underway, misfortune struck at several places round the world, with hundreds injured by fireworks, a number of people killed in shootings and fires and a deadly stampede in Cote d'Ivoire taking the lives of over 60.
In Abidjan, the capital of Cote d'Ivoire over 60 people were killed and dozens injured by a stampeding crowd as over 50,000 people gathered in the city's main stadium to watch a fireworks display.But the flow of people into the entrance caused a crush which then turned into a stampede as people were trampled and suffocated. The government said that the average age of those who died was 18 years old.In the Angolan capital of Luanda at least ten people were crushed to death and over 100 injured during an overcrowded overnight vigil organized by a Pentecostal church, state news agency Angop reports.In Cape Town, South Africa, 3 people died and up to 4,000 were made homeless by fires on New Year's Day.
The first fire swept through townships in Khavelitsha destroying 120 shacks and in Thembeni, burning down 220 shacks and 15 formal homes, displacing about a thousand people.Another separate fire broke out in Khavelitsha, destroying over 800 shacks, which left another 3,000 people homeless.Spokesman Wilfred Solomons-Johannes, from Cape Town's disaster risk management center said that the fires had been fueled by strong winds, which also hampered firefighters.Meanwhile in the Philippines up to 413 people were injured by fireworks and gunfire including a child who was hit in the head by a stray bullet in metropolitan Manila. This year's carnage is 17% down on last year's but the Philippines was still one the most violent places in the world to welcome in 2013.
Many Filipinos believe that noisy New Year's celebrations drive away evil and misfortune but take their superstation to extreme levels, exploding massive fireworks and firing guns into the air despite the threat of being arrested. In the US, two people were confirmed dead and another 3 injured in Old Sacramento, California, the midnight fireworks show was cancelled as a result.Police said what started as an argument in a bar at 9:40 p.m. Monday, escalated and became a physical confrontation. When an employee tried to break up the fight, he was shot, as were a woman and another man.In Thailand, a British man was shot dead just hours after welcoming in the New Year with friends at a beach party. Media on the popular party island of Koh Phangan said a 22-year-old tourist, named as Stephen Ashton, was gunned down after an argument between two groups of Thai youths spiralled out of control.In Italy two people died and 561 were injured, prompting the Interior Minster Anna Cancelliere to say the figures looked more like a "war report" than a celebration. A 39 year old man was killed in Naples, after he was hit by a stray bullet and in Rome a 31 year old man was killed when fireworks went off in his house. And in France thieves used the New Year's festivities to stage a robbery of Apple's flagship store in Paris. Police reported that up to $1.3 million worth of goods were stolen. Christopher Crepin, a police spokesman, said the operation was "well prepared", while police were deployed around the Champs-Elysees Avenue for the New Year's celebrations. France's interior Ministry also reported that during the New Year night nearly 1,200 cars were set alight.
You can share this story on social media: