Turkmenistan: new leader pledges loyalty to the late president's course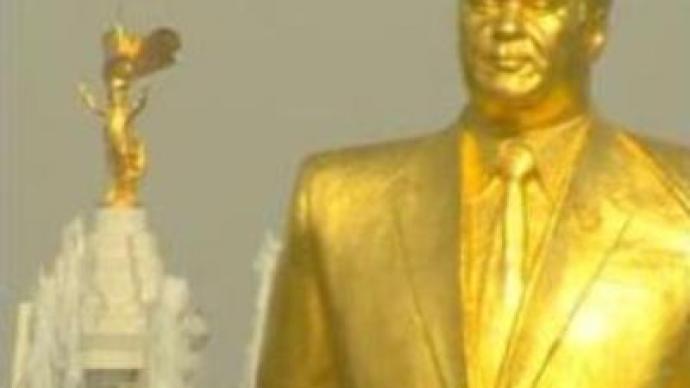 The new leader of Turkmenistan, former Vice Premier Gurbanguly Berdymukhamedov, says his country will pursue the policies of the late president Saparmurat Niyazov.
However, Niyazov's opponents and dissidents want a change. Many in Turkmenistan and abroad hope after the death of President Niyazov, the reclusive country would become more open and free.The late leader did not tolerate any opposition, and many of his opponents were jailed.Among them former was Deputy Prime Minister Boris Shikhmuradov. When he was accused of plotting against Mr Niyazov and arrested, his wife Tatyana and their children fled to Moscow.
"I think at least 300,000 people are in jail in Turkmenistan. And those who were released in an amnesty, if they're still able to speak, tell about the horrors they lived through, comparing it to the worst cases in world history,"
Tatyana Shikhmuradova said.Mr Shikhmuradov, who remains one of the country's top political prisoners, has been in jail for 4 years now. Tatyana hopes after Saparmurat Niyazov's death her husband might be freed.Some of those persecuted in Turkmenistan could flee to Russia. Former lawyers, sportsmen, political analysts and families of jailed politicians have found refuge in Moscow. They consider themselves lucky but many of them are still nostalgic and hope after the death of President Niyazov they will be able to return to their homes if there is any left.The Nationalist policies which President Niyazov carried out resulted in the discrimination of Turkmenistan's ethnic minorities.Thus, there was only one NGO in the country, "Turkmens of the world". Authorities refused to register any others.Some 150,000 of Turkmenistan's ethnic Russians faced massive discrimination. Moscow has made efforts to protect the Russian-speaking minority in Turkmenistan and intends to pursue this policy with its new leadership.
"We have made numerous protests to the authorities of Turkmenistan, but we never succeed in these protests. And I believe that in the case of the new leadership they will continue the same line, and it will definitely create very big problems in our relations,"
Konstantin Kosachev, head of the State Duma Foreign Affairs Committee, told Russia Today.However, for now, hopes for changes to the political climate remain just hopes. Turkmenistan might be entering a period of a political uncertainty, and there is no sign the wind of change is blowing. It has stopped issuing new entry visas, and all those who want to return will have to wait.
You can share this story on social media: