Turkmen opposition hopes to make most of Niyazov's death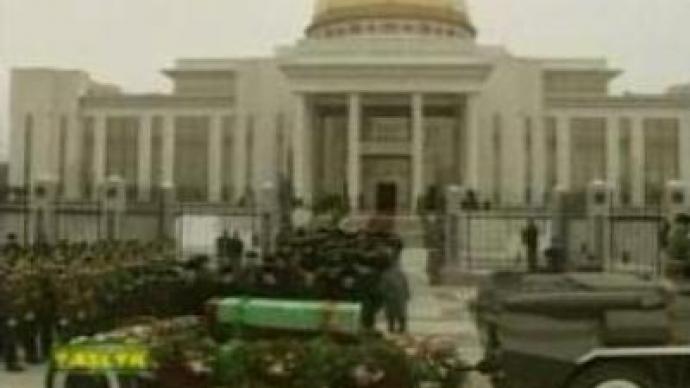 Thousands of Turkmens have paid their final respects to the country's leader Saparmurat Niyazov. The Turkmen opposition remains relatively weak. But should there be a real struggle for power among the ruling elite, dissidents might have a chance to take p
As Turkmenistan mourns its president, the world's attention is focused on Mr Niyazov's successor. Tomorrow, the upper house of the country's parliament will discuss some candidates. Russia, China, the EU and the U.S. would all like to build closer relations with the new leaders of the country with such gas and oil reserves. Analysts agree that in a short while a new president will be found from within the ruling circle. Meanwhile, the former Turkmen president's sudden death now means some of the country's exiles are keen to return home to help change the authoritarian legacy. But, according to Moscow-based Anatoly Fomin, the head of Turkmenistan's now exiled Russian community, authorities have been keeping the opposition from coming back.
"Of course all of the exiled dissidents decided to go home as soon as we heard of Niyazov's death,"
says Mr Fomin.
"We asked for permission to enter Turkmenistan, but we received no answer. We asked the U.S. Congress and the German embassy for support, but with no result. So we have no choice but to wait."
Another dissident, Farhad Ilyasov says the next session of Turkmenistan's People's Council due on December 26 will be crucial.
"They will decide, who'll be the Head of the Council, who'll become the prime minister, and who'll be "the real" presidential hopeful,"
explains Mr Ilyasov.
"When Niyazov was alive, he held all three offices. If different people take them now, even if they're all army generals, it will already be a huge step to political pluralism. Then the democratic opposition will try and split them, find among them a person to flock behind."
The former Director of Turkmenistan's Central Bank is urging the international community from the Ukrainian capital Kiev to back the dissidents and help democratize the country.
"If the international community stays passive,"
underscores a member of Turkmen opposition, Khudoiberdi Orazov,
"the present authorities will try to maintain a dictatorship. But neither the Turkmen people, nor the opposition, will agree with this. And we will begin to work more actively."
But back in Moscow, some political analysts doubt liberalization in Turkmenistan will happen in the near future.
"The contemporary leaders of Turkmenistan will try to exercise some sort of caution, because they don't have the political experience or charisma of Saparmurat Niyazov,"
says political analyst Rustem Safronov.
"And they will probably be reluctant to untighten their political grip on Turkmenistan out of fear for their own political future."

You can share this story on social media: