Erdogan leaves Syrian apology for shooting down Turkish jet unconfirmed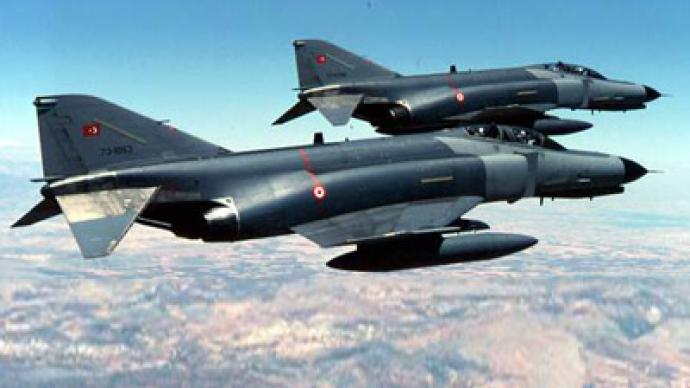 Turkish Prime Minister Recep Tayyip Erdogan could not bring any light to what happened to a military plane that was reportedly shot down by Syria, as he talked to media after the plane's disappearance.
Erdogan did not confirm reports that Damascus had apologized for shooting down the plane. The PM also refrained from sharing any information about the fate of the two pilots, who were reported as rescued earlier. Further statements are expected after a security meeting.Senior presidential adviser Arshad Harmozlo said that the early reports were baseless, reiterating the PM's statements. "We have no confirmation surrounding the Syrian apology or even that Syria has shot down the jet," he said as cited by Al Arabiya.Rescuers have already found an ejector seat and parachute in the sea, but no signs of the plane or pilots so far, Turkey's state television reports.The plane crashed into or nearby Syrian territorial waters earlier today, according to reports. A missile fired by the Syrian defense system shattered it to pieces after which the jet plunged into the Mediterranean Sea. Syrian vessels have joined a search operation, which was launched immediately after the Turkish military lost radar and radio contact with the craft. The plane took off from Erhac Airport in the eastern province of Malatya at 10 a.m. local time. Unconfirmed reports suggest that Syrian defense forces had been shooting at two foreign planes."Witnesses spotted two jets flying in from Turkish territory. One of the planes went down in Syria's territorial waters, while the other one made off," says Ihab Sultan, a local correspondent in Syria, told RT.Relations between Ankara and Damascus have become marred by Turkey's open support of the Syrian opposition, which is seeking to topple the government of President Bashar Al-Assad. On Friday, Turkey denied the Syrian government's accusations that it is supplying rebels with arms. Still, Turkey remains a NATO member, which means that in the event of an attack it could summon the aid of all the alliance members. In April, Turkey already called on NATO to protect its borders as cross-border fire from Syria hit a refugee camp on Turkish territory. These statements were condemned as "provocative" by Assad's government.International relations expert Mark Almond says in the event of a NATO intervention scenario, Turkey might launch a probing flight to assess Syria's capabilities."If the NATO countries were really thinking of some kind of intervention to assist the rebels against Assad's regime, the first thing they'll want to do is to knock out Syria's air forces and defense systems. So some kind of a probing flight testing Syria's responses would be possible. But it is also possible this is a tragic mishap," Almond told RT from Bilkent University in Ankara.
You can share this story on social media: