Turkey, Azerbaijan and Georgia discuss common projects in Tbilisi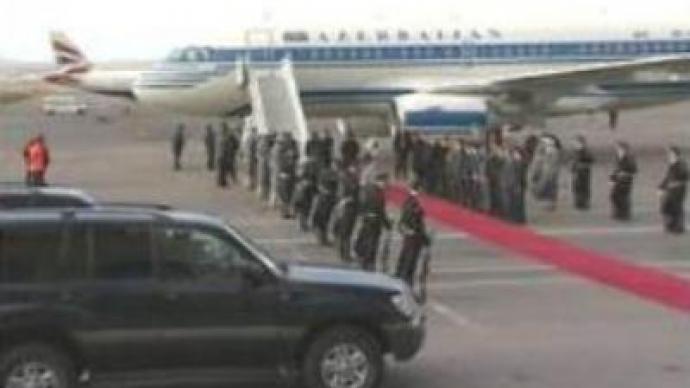 The Turkish Prime Minister, Rajab Tayyip Erdogan and the Azeri President, Ilham Aliyev, have arrived in the Georgian capital Tbilisi to discuss common traffic projects with Georgia's President, Mikhail Saakashvili.
They also attended the official opening of Tbilisi's brand new international airport.The three leaders are ready to sign a deal for a new rail link between Turkey and Azerbaijan. Beginning in the capital of Azerbaijan, Baku, it is planned to pass through Tbilisi and further on to the town of Kars in Turkey. Construction of the $US 400 BLN project is due to begin this summer, and should be completed in 2 years. It will transport both passengers and cargo between the three countries.
"We must become an example of tight co-operation to the world. We know about existing problems in the South Caucasus, but they can only be solved by the friendly co-operation and Turkey will do its best to help this process,"
stressed Mr Erdogan.The President of Azerbaijan seemed to quite agree with his Turkish counterpart.
"The signed documents are very important for the development of co-operation between our countries and the whole region,"
said Mr Aliev.One of the biggest Turkish investment projects in Georgia is Tbilisi's new International Airport Terminal. It was scheduled to be open in November last year as part of the Rose Revolution celebration, but the opening was postponed twice. However, talking about the present condition of the airport, The Georgian president sounded very optimistic.
"This airport is a sign of Tbilisi's prosperity, and no one should be surprised that such place really exists in Tbilisi. The standards we see here are much better than those in any other European city airports,"
claimed Mr Saakashvili.The newly completed terminal is expected to serve 1,500 departing and arriving passengers per hour. The airport promises to be one of the largest and most modern airports in the region.By the way, there is no sign of Russian destinations on the departure boards as Russia and Georgia stopped air flights between the two countries over 4 months ago after the diplomatic clash. Negotiations on the resumption of direct flights are still being thrashed out.
You can share this story on social media: