Trash clash: Dump protest leaves 50 people, mostly cops, injured in Tunisia (PHOTOS)
Published time: 7 Oct, 2012 08:45
Edited time: 7 Oct, 2012 12:45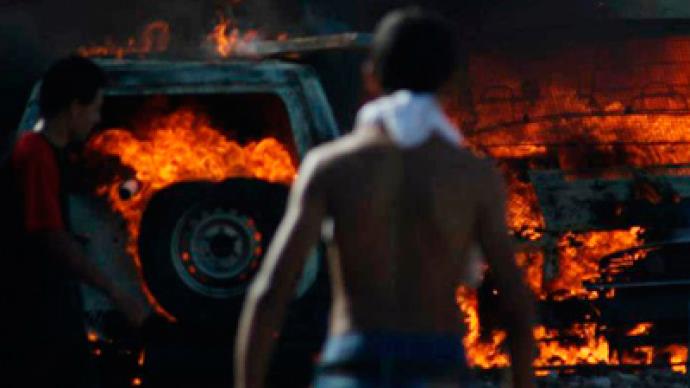 Forty-nine policemen and several protesters have been injured in Tunisia during clashes on Saturday. The demonstrators at the tourist island of Djerba were objecting to the reopening of a rubbish dump. Police used teargas to disperse the crowd.
­The protesters in the town of Guellala in south of the island confronted police, throwing rocks and firebombs at the officers and torching six police cars, Interior Ministry spokesman Khaled Tarrouche told AFP.
"There were 49 police injured, with fractures and other injuries caused by rocks and petrol bombs," he said.
No arrests were made and just two demonstrators were hurt while the crowd was being dispersed with teargas, he added.
The rioting in the town of some 13,000 residents was triggered by the decision of the local authorities to reopen a rubbish dump in 2013.
Some 40 activists blocked the entrance to the site on Saturday morning, but their negotiations with the authorities failed.
Protesters set fire to police cars during a demonstration against the reopening of rubbish dump on Guellala in island of Djerba October 6, 2012 (Reuters / Stringer)
After midday, a much large crowed took to the town's streets. Tunisian police called for reinforcements from the capital.
Following the clashes the authorities pledged that the dump will remain closed.
Djerba was mostly spared the violence during and after the 2011 revolution in the country which ousted former President Zine El Abidine Ben Ali.
Police vehicles burn after they were set on fire by protesters demonstrating against the reopening of a rubbish dump in Guellala on the island of Djerba October 6, 2012 (Reuters / Stringer)
The newly-elected government however has failed to relieve economic hardships of the population, or in some places even organize the collection of garbage, resulting in regular clashes between discontent people and security forces around the country.
On Friday, police in the central town of Sidi Bouzid used rubber bullets and teargas to disperse protesters who were trying to break into the regional government's headquarters. The town is famous as the place where the Tunisian revolution started, when a street vendor immolated himself in December 2010.
Supporters of Tunisia's ruling Islamist Ennahda party shout slogans during a protest in the town of Sidi Bouzid on October 6, 2012 (AFP Photo / Mokhtar Kahouli)