Tsunami watch lifted across Indian Ocean after Indonesia quake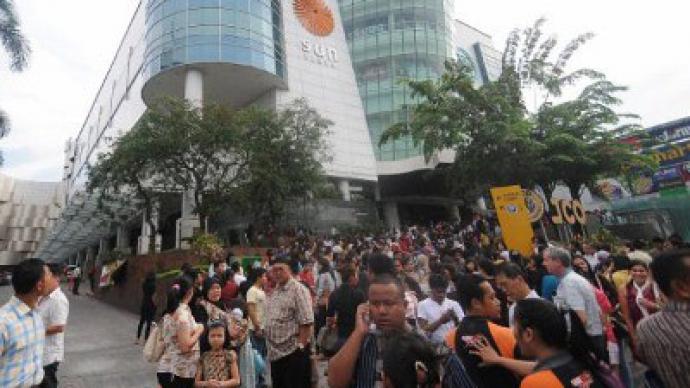 Tsunami watch status has been called off in Indian Ocean countries. Earlier, Indonesia's Geophysical Agency reported a strong 8.2 aftershock off the Sumatra province of Aceh, which prompted the country's authorities to issue a tsunami warning.
The initial 8.6 magnitude earthquake happened earlier on Wednesday, 500 kilometers off the coast of northern Sumatra.Indonesia's disaster agency said the worst impact was likely to be on Simeulue Island off southern Sumatra.Sea levels in the island near the epicenter of the Aceh quake were registered as receding by about 10 meters, a witness informed Reuters.The epicenter of the fresh tremor lay further offshore than that of the initial quake, at a depth of 16.4 kilometers. The 8.2 aftershock occurred 615 kilometers from the provincial capital of Banda Aceh in northern Sumatra, and 1,061 kilometers from the Malaysian capital Kuala Lumpur.Banda Aceh, with a population of over 220,000, was also the closest city to the initial quake's epicenter, which lay 33 km beneath the ocean floor.The aftershock triggered a new wave of panic among residents of Aceh, which was hard hit by a devastating quake and tsunami in 2004. Many people were crying, while others screamed "God is great," the Associated Press reports.Residents along the western coast of Sumatra and the nearby Mentawai islands were told to stay away from the coast because of the threat of a tsunami.Geophysicists say the massive quake was a strike-slip, which means the earth moved horizontally rather than vertically. Such quakes do not usually displace large volumes of water.In December 2004, a giant 9.1-magnitude earthquake off Sumatra and subsequent tsunami killed 230,000 people across the Indian Ocean region.
You can share this story on social media: