Tsunami death toll rises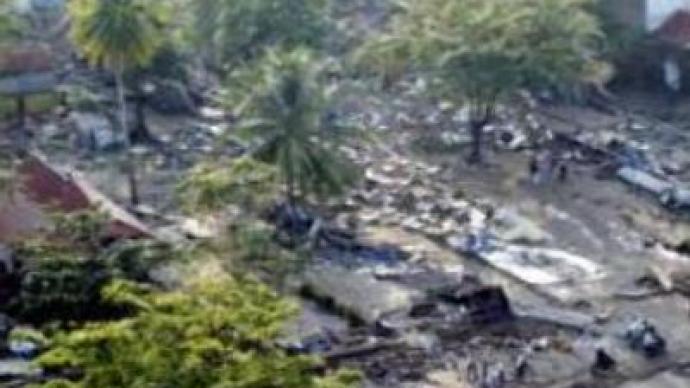 At least a dozen people have died and many more are reported missing in the Solomon Islands in the Pacific, after a powerful undersea earthquake triggered a tsunami. Entire villages were flooded and dozens of houses destroyed.
A tsunami warning was issued for other Pacific Rim countries, including Australia and Indonesia, but was later cancelled.The tsunami crashed ashore on the western coast of the Solomon Islands.Residents say waves of several metres high traveled 200 metres inland. The tidal wave was sparked by a magnitude eight earthquake which struck 350 kilometers offshore. The tsunami destroyed dozens of houses in the western city of Gizo causing thousands of people to flee in panic. Damage has also been reported in the towns of Taro and Munda.
"The wave went up to the wall of the Gizo prison. Prisoners have been evacuated to higher ground. And in Taro, there is also a situation where the police have gone up into the higher ground areas with members of the public, the residents as well,"
says Peter Marshall, Solomon Islands Deputy Police Commissioner.The entire Pacific region went on high alert for several hours. Tsunami warnings were issued in Indonesia, Papua New Guinea, Japan and Australia.As a precaution authorities shut down beaches along Australia's East coast and the famous Bondi beach in the South.Lifeguards instructed swimmers to get out of the water and walkers off the sand. Ferry services in Sydney Harbor were also suspended.Authorities initially feared a repeat of the Indian Ocean disaster in 2004. A powerful earthquake then sent a giant tsunami wave ashore killing almost 250,000 people. Warning systems around the Pacific rim have been significantly improved since then.
"There was a warning but we haven't seen any evidence of a tsunami that's affected our part of the world. But obviously if there were to be a disaster, we would respond appropriately,"
says Air-Marshal Angus Houston, Australian Defence Force.The Solomon Islands lie on the Pacific "Ring of Fire" where earthquakes and volcanic activity are frequent.Experts in Japan and Hawaii are monitoring for after-shocks in the region.
You can share this story on social media: